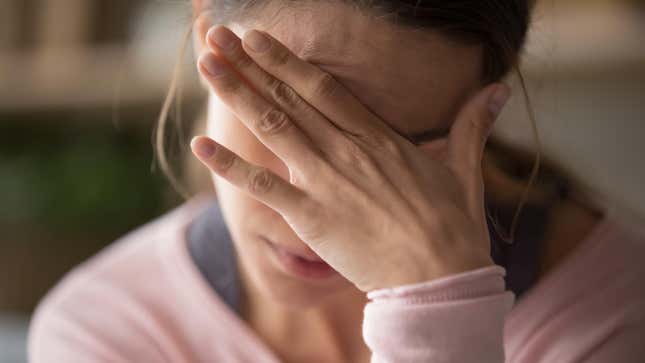 A recently approved preventative migraine drug called atogepant (branded Qulipta) seems to help even the most difficult cases, preliminary research out this week has found. The study showed that patients who hadn't responded to other treatments experienced noticeably fewer days with migraine while on atogepant than those given a placebo. The Food and Drug Administration expanded the drug's intended use this month, approving it for adults with chronic migraines.
Won't Virtual Reality Make Me Sick?
Atogepant was developed by the company Abbvie and is sold under the brand name Qulipta. It's part of a relatively new class of migraine drugs called calcitonin gene-related peptide (CGRP) inhibitors. CGRP is a protein that plays a key role in triggering and sustaining migraines and other chronic types of headache. The pill was first approved by the FDA in 2021 to prevent episodic migraines, defined as experiencing migraines or migraine-like headaches four to 14 days a month on average.
In the large-scale clinical trials of people with episodic migraines that secured its approval, atogepant noticeably reduced the number of days with migraines compared to placebo (about two fewer days for the highest doses). This new study, presented this week at the American Academy of Neurology's 75th Annual Meeting, specifically looked at the data on people with episodic migraines who had failed to respond to other drugs.
The study involved around 300 people with episodic migraines who had tried at least two different classes of preventive migraine medications. About half were given 60 milligrams of atogepant a day (the highest approved dose), while the other half was given placebo. Both groups experienced a reduction in migraine days, but those on atogepant experienced about two fewer days of migraine on average compared to placebo. The drug also appeared to be safe and well-tolerated, with the most common adverse effects being constipation and nausea, which affected up to 10% of patients.
"These results are exciting, as migraine can be debilitating, and this treatment led to fewer days with migraine for people who had already tried up to four other types of drugs to prevent migraine and either had no improvement or had side effects that outweighed any benefits," said study author Patricia Pozo-Rosich, a researcher at Vall d'Hebron University Hospital in Barcelona, Spain, in a statement released by the American Academy of Neurology.
The new findings have yet to be published in a peer-reviewed journal, which is an important part of the scientific process. But they come fresh on the heels of other recent good news for the drug's maker. Earlier in the week, the FDA agreed to expand the indication of atogepant on the basis of positive Phase 3 trial data. It's now approved for the prevention of episodic and chronic migraines, defined as having migraines for 15 or more days a month. The drug will be approved as a daily 60-milligram dose for those taking it to prevent chronic migraines.
Unfortunately, while atogepant and other CGRP drugs have truly changed migraine treatment for the better, they've come with a high sticker price. Without insurance, atogepant can cost upwards of $1,000 a month, though some other CGRP drugs cost less. And at least some potential patients have reported difficulty in getting these medications covered.