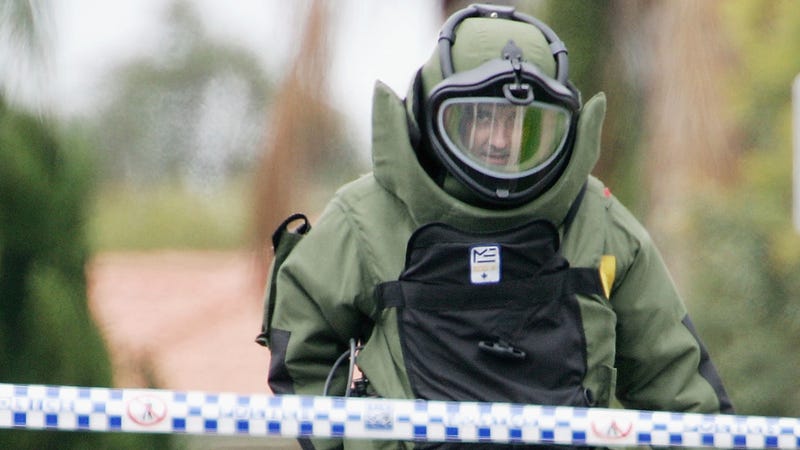 Remember a couple weeks ago when some nutter strapped a bomb to a young Australian woman's neck? Well, they think they've got the guy, and he was in hiding in the boonies in Kentucky.
The FBI has arrested Paul "Doug" Peters, the Australian man who was the prime suspect in the captivating Collar Bomb Caper that took place on August 3rd. Wait, his nickname is "Doug"? Australians are supposed to have cool nicknames, like "Chippa" or "Bottle". "Doug" had been hiding out with his ex-wife in the small town of La Grange, Kentucky (about 25 miles northeast of Louisville).
I've gotta say, this makes a lot of sense. I mean, if I were wanted for a major crime in Australia, where would I hide? I would think that a tiny town in rural America would be the last place anyone would look. Maybe I'd hide in a small Chilean village instead. I dunno. Regardless, Dougie went without a fight.
This has got to be some small bit of solace for the victim, Madeleine Pulver, and her family. Luke Moore, a detective superintendent for the New South Wales Police Force, told reporters that investigators are still trying to determine why the Pulver family was targeted. Really? You know this was an extortion plot, and you have a ballpark idea of what the Pulvers are worth, is this enigma really that hard to unravel? Douggieboy, who authories believe fled Australia on August 8th, will appear in a Louisville court today, and will likely be extradited. When you waste 10 hours of the bomb squad's time, things are not likely to go well for you. [Reuters via Yahoo! News]
Image credit: Getty Images/Ian Waldie
---
You can keep up with Brent Rose, the author of this post, on Google+ or Twitter.