If you're going to make a building out of reclaimed materials, then why not pick some previously-used materials that are awesome? Like an entire airplane? Here are some of our favorite homes, restaurants and more that incorporate decommissioned airplanes.
Hotel Costa Verde from a Boeing 727 in Costa Rica
The 1965 Boeing was transported from a plane graveyard in San Jose to the Costa Rican jungle, and nestled on a 50-foot pedestal. The luxurious hotel is full with hand-carved Indonesian teak furniture and two air-conditioned bedrooms, an ocean-view terrace and some wild neighbours like sloths and monkeys.
(via Costa Verde)
Boeing 727-200 in a middle of a forest in Oregon (by Bruce Campbell)
G/O Media may get a commission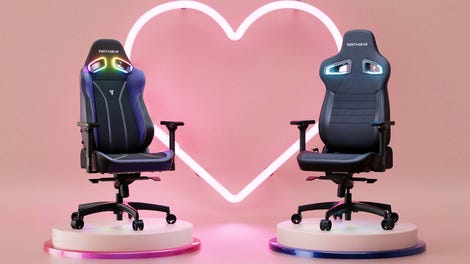 Up to $150 off
Vertagear Gaming Chairs
Campbell reused some of the original equipment instead of removing them from the old Boeing. The cockpit is the reading room and the movie theater (with a computer monitor); the floor is transparent and he's using the original water tank.
(via Airplane Home and augenblicke)
Lisunov Li-2 as a confectionery in Budapest, Hungary
From 1961 to 1973 there was a Lisunov Li-2 (the Soviet license-built version of the legendary Douglas DC-3, produced between 1939 and 1952) in the suburb of Budapest. It was home to a bakery named Small Pilot.
(via Li-2.hu)
Ilyusin Il-18 hotel in Teuge airport, Netherlands
This Ilyusin Il-18 was built in 1960 and it served in the East German airline company Interflug for 22 years after it was a government plane between 1960 and 1964. The nearly 130 ft (40 m) long plane is a now a single luxury suite with jacuzzi, infrared sauna, huge televisions, air conditioning and a lovely mini bar.
(via Hotel Suites)
A Douglas DC-3 as a café in Mangaweka, New Zealand
The Cookie Time Café DC-3 was used by the Royal New Zealand Air Force in 1945, and has a total log book time of 42764 hours until 1981. In 1986 it was renovated and it's still standing in the same place after more than 26 years.
(via key.aero)
Il-18 as a restaurant in Abda, Hungary
The old Il-18 worked between 1967 and 1989 as a cargo plane. In 1990 it was moved to a small city and converted to a 180-seat restaurant, but the place went bankrupt in 2000. In 2008 it re-opened as a retro club. For only one night.
C-47 House in Chile
This plane crashed in 1974 in Chile with a six man crew and a 10-year-old son of the pilot. The boy came back 24 years after the accident, found the plane, and turned it into a house.
(via Douglas DC-3.com)
A body of an Il-18 jet on the second floor, somewhere in Russia
(via English Russia)
Decommissioned Boeing 747 converted to a modernist house, David Hertz Architects, Malibu, 2011
The roof is from wings, and the other parts were included in the rooms.
(via inhabitat)
A Bristol Freighter hotel in Woodlyn Park, Waitomo, New Zealand
One of the last allied planes out of Vietnam was modified into two hotel rooms and moved to Woodlyn Park in New Zealand.
(via Flickr/Squiggle and Woodlyn Park)