Batgirl is getting a look, a new perspective and a new creative team. It's all good news — especially that fan-favorite illustrator Babs Tarr will making her mainstream comic debut — but none of it better than Barbara Gordon's brand new, utterly fantastic new uniform.
Designed by Tarr and writer Cameron Stewart, the outfit is sensible, stylish, and just all around perfect. It also happens to be eminently cosplayable.
It's part of a new direction for DC's Batgirl comic, which will ditch the grim betrayal/fire/murder-fest that has dominated the comic so far with issue #35 (due in October), when Barbara moves to the trendy hip part of Gotham City to focus on going to grad school. Of course, there are still mysteries to solve and villains to fight, but Batgirl will finally be allowed to have fun and learn to enjoy the spotlight. As Stewart told MTV:
She's leaving it all behind her. We really wanted to make this a book with a light tone, of fun and adventure and mystery, and let the rest of the Bat-family deal with the darkness. She's got problems, and conflict, and enemies to fight, but our priority was to make this a really fun, rollicking read.
G/O Media may get a commission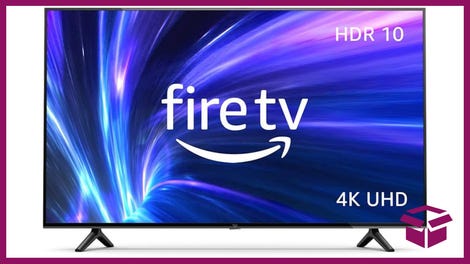 42% Off
Amazon Fire TV 50" 4K Smart TV
Co-writer Brenden Fletcher added their take incorporates "mixes the best elements of 'Veronica Mars' and 'Girls,' with a dash of 'Sherlock' thrown in for good measure."
I can't tell you how happy I am to hear this. Not every superhero comic DC puts out needs to compete for the Grimmest n' Grittiest of the Year Awards, and Batgirl's already tragic past made her current miseries even more unpalatable for me.
For more details and more art, head over to MTV to read an excellent interview with Tarr, Stewart and Fletcher. And well done, DC. Well done indeed.