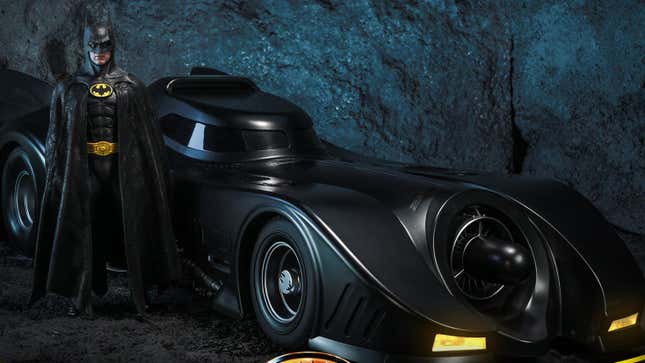 Everyone has their Batman. The Batman they grew up with and made them fall in love with the character. Maybe it's from a specific comic book artist: Jim Lee, Frank Miller, etc. Or maybe it's from a specific series: Adam West, Christian Bale, heck, even Robert Pattinson. I know this is true because, well, it was a joke in the movie Neighbors, and also because my Batman has always been Michael Keaton.
The star of Tim Burton's two Batfilms released in 1989 and 1992, Keaton is the actor I associated with Bruce Wayne more than any other. Even when I went back to watch the Adam West TV show, or bought a ticket to the Christopher Nolan films, it's Keaton's take that has continually given me the nostalgic wonder.
Which is why I freaked the heck out when I saw him in The Flash trailer this week, and apologized to my credit cards when I saw what you're about to see.
Hot Toys just revealed brand new 1/6th scale collectibles of both the Michael Keaton Batman and his trusty Batmobile. As with most Hot Toys, these are not cheap ($279 or $349 for the figure depending on which version you get, $715 for the Batmobile), but even if that's understandably way out of your price range, you can still bask in their glory. Check 'em out.