Hey, remember yesterday when we heard the oddly believably rumor that Warner Bros. had instituted a "no-jokes" policy for its DC superhero movies? Well, apparently it's actually a "no joy whatsoever" policy, if this rumor about Scoot McNairy's character is to be believed. Possible spoilers ahead...
Deadly Mississippi Tornado Kills More Than 2 Dozen | Extreme Earth
Okay, remember a couple of weeks ago when the pics of Halt and Catch Fire's Scoot McNairy leaked from the set, and he had those weird green socks that indicated there would be some CG going on with his legs? Here:
G/O Media may get a commission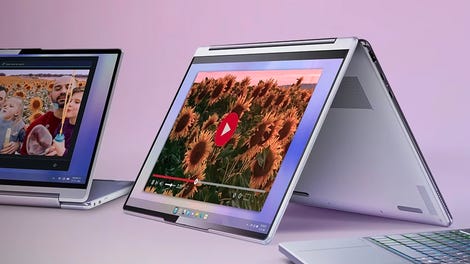 up to 70% off
Lenovo Spring Clearance
Now, many people suspected he might be played the Flash, and the sfx socks were going to be used to help make the running effect. Well — and please load your salt grain dispensaries now — according to an extra who talked to the website The Devil Eyes, Scoot is actually playing Superman's pal Jimmy Olsen. And the reason for the socks is this:
"Scoot is playing Jimmy Olsen, but with a bit of a twist. Jimmy was injured during the battle of Zod vs Superman. His legs where pinned under falling building rubble and that caused him to lose the legs. He now walks with the use of two prosthetic legs." The source goes on to add "He doesn't blame Superman for it [his loss of legs]. He feels grateful that Superman saved the world."
OH MY GOD. JIMMY OLSON WAS MAIMED BY THE FIGHT AT THE END OF MAN OF STEEL. RATHER THAN MOVE PAST WHAT MANY CONSIDER TO BE MAN OF STEEL'S MOST CONTROVERSIAL SCENE ZACK SNYDER IS BRINGING IN A CHARACTER WHO IS BY HIS VERY PRESENCE GOING TO BE A CONSTANT, CEASELESS REMINDER OF ALL THE CARNAGE SUPERMAN WROUGHT AND/OR FAILED TO STOP.
That... I don't even... well, it's definitely a ballsy move. I don't think it's a smart move, but it is ballsy. I'm guessing that Snyder has vastly overestimated how much mass audiences want to be visually reminded of the grim, horrible, and authentic physical costs of battle during a PG-13 movie about men in tights with superpowers, but I've been wrong before.
I am curious, however, how Superman and Jimmy become friends since they didn't know each other in Man of Steel. It seems like "You tossed Michael Shannon into a building and it fell on my lower torso" is a difficult basis upon which to build a lasting relationship.