Located in the North Cascades of Washington State in the U.S., Mount Baker is one of the most heavily glaciated and snow-covered mountains in the region. But as these satellite images show, its perma-snow doesn't look so permanent anymore.
At 10,781 feet (3,286 meters), Mount Baker is the third highest mountain in Washington State and the fifth highest along the Cascade Range. This mountain is actually a volcano, and features the second-most thermally active crater in the region after Mount Saint Helens. It's also one of the snowiest places in the world. Back in 1999, the Mount Baker Ski Area set the world record snowfall for a single season at 1,140 inches, or 2,900 cm.
But as NASA reports, average to just-below average precipitation in the Pacific Northwest hasn't translated to snow; most of it has fallen as rain, resulting in dramatically diminished snowpacks. As NASA writes: "Mount Baker stands as a visible reminder of climate change in the area."
The images shown above were taken in early July 2013 and 2015. More from NASA's Earth Observatory:
Cryospheric scientist Dorothy Hall and programmer Nicolo DiGirolamo, at NASA's Goddard Space Flight Center, used the Landsat images to calculate the snow cover extent. On July 3, 2013, about 123 square kilometers (47 square miles) blanketed the mountain; by July 9, 2015, the area had shrunk to 45 square kilometers (17 square miles). There were no cloud-free scenes in early July 2014.
G/O Media may get a commission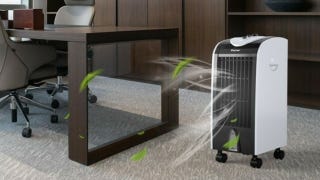 Save $10
Evaporative Portable Air Conditioner Cooler with Filter Knob
And it's not just the snow that's sparse—the glaciers on Mount Baker have also retreated over the course of the last few decades.
---
Contact the author at george@io9.com and @dvorsky. Top image by Joshua Stevens, using Landsat data from the U.S. Geological Survey and glacier extent data courtesy of Andrew Fountain, Glaciers of the American West Project, Portland State University.