According to a report published today by the CDC, more than 732,000 children's lives and $1 trillion have been saved in the last 20 years by a government program that was created for kids who didn't have health insurance that covered vaccinations.
The Vaccines for Children (VFC) program was implemented in 1994, following an outbreak of measles that was responsible for 55,000 cases between 1989-1991. Health officials reported that the resurgence of the disease was caused largely by the widespread failure to vaccinate uninsured children at the recommended age of 12–15 months. President Bill Clinton persuaded Congress to create the program, arguing that vaccine manufacturers were pursuing "profits at the expense of our children." The VFC was initially controversial, as drug companies and Congressional Republicans said that it was based on faulty assumptions and that the government was ill-prepared to run such a huge enterprise. (Sound familiar?)
Initially, VFC targeted nine diseases: diphtheria, tetanus, pertussis, polio, Haemophilus influenzae type b disease, hepatitis B, measles, mumps and rubella. During 1995–2013, five others were added: varicella, hepatitis A, pneumococcal disease, influenza and rotavirus.
The result? The CDC calculates that, over the course of the lifetimes of 78.6 million children born between 1994-2013, routine immunizations have prevented 322 million illnesses and 21 million hospitalizations, and averted 732,000 premature deaths.
And, total savings for American taxpayers? Nearly $295 billion in direct costs (such treating an infection) and $1.38 trillion in total societal costs (such as lost productivity and education due to disability and chronic health problems).
G/O Media may get a commission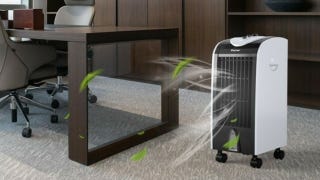 Save $10
Evaporative Portable Air Conditioner Cooler with Filter Knob
Another benefit of the VFC program: reduced racial disparity. According to this CDC study, during the 1989-1991 measles outbreak, "affected children were disproportionately inner city or were American Indian, Hispanic, non-Hispanic black, and low-income children aged less than 5 years who had not been vaccinated. Racial/ethnic minority children were at three to 16 times greater risk for measles than were non-Hispanic white children."
Since 2005, there have been no racial/ethnic disparities in vaccine coverage for measles-mumps-rubella and poliovirus in the United States.