The end of The Hobbit might be changed to give Bilbo a chance to show off his newfound bravery. Kick-Ass 2 will feature rival gangs of superheroes and supervillains. Plus a bonanza of Syfy spoilers, Doctor Who, Fringe, and more!

The Hobbit:
A casting document for Bilbo Baggins mentions his great bravery in the story's final battle - which doesn't fit with the book, in which Bilbo is unconscious for pretty much the entirety of the Battle of the Five Armies. That could mean they're changing the ending to give Bilbo an active role in the big battle, which makes sense from a filmmaking perspective, in that it wouldn't really do to have the protagonist absent from the movie's big finale. This report also suggests other actors apart from Martin Freeman may be auditioning for the Bilbo role, and that production could start as early as January. [The One Ring]
Kickass 2:
Mark Millar spilled some more details for his next full-frontal assault on the forces of subtlety. Exhibit A: the Red Mist, played by Christopher Mintz-Plasse, will now be known as the Motherfucker, and he will make you forget all about McLovin:
"It's gangs going all over New York filming atrocities on their cell phones and putting them on the internet, trying to outdo each other, all at the behest of Red Mist. My idea for Red Mist was to introduce a supervillain that made Heath Ledger's Joker look like Cesar Romero's Joker. He's basically Charles Manson as a supervillain."
G/O Media may get a commission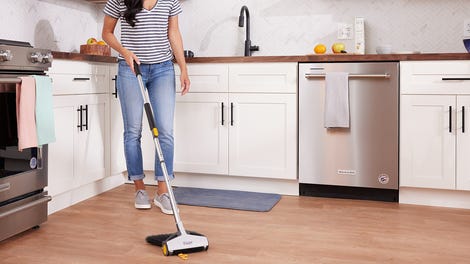 BOGO 50% Off
Flippr - BOGO 50% Off
He also said that Kick-Ass forms a rival gang of heroes to take on the former Red Mist, and it all ends in a big gangfight between heroes and villains. [Empire]
Spider-Man Reboot:
Andrew Garfield says that he won't be approaching the part any differently from his previous, more indie fare:
I'm just going to act the same way. I'm going to approach it with the exact same thing. It's another role that I just want to play. I feel very passionate about it, it means a great deal to me and it always has since I was four years old. It's all the same to me... I'm just going to work as much as I can, because it's been such an important symbol to me since I was four years old. It's meant so much to me, and it's given me so much hope as a skinny little streak of piss, who feels more powerful inside than he looks on the outside. Every skinny boy's dream. I'm very lucky.
Tron Legacy:
A couple new promo posters are out: [SpoilerTV]

Oblivion:
Tron Legacy director Joseph Kosinski's next film has picked up a screenwriter. William Monahan, best known for writing The Departed, will adapt Kosinski's graphic novel about aliens on the desolate remains of Earth. [Deadline]
Transformers 3:
Recent rumors to the contrary, Michael Bay confirmed the film will be in 3D. [Shoot For The Edit]
It looks like the movie has started filming some of its sequences set in the 1960s, at least according to an extra who was fitted for period costumes. [Shoot For The Edit]
Both Tyrese Gibson and Lester Speight (Hardcore Eddie) confirmed that they're now filming scenes in Detroit. [TFW2005]
It feels like it's been a while, but here's another big batch of set photos: [TFLAMB and TFW2005]

Let Me In:
Here's a new international trailer for the American version of the Swedish vampire story: [SlashFilm]
Megamind:
A bunch more character posters have been released: [IGN]

Harry Potter and the Deathly Hallows:
A new TV spot is out:

Fringe:
The seventh episode is reportedly written by David Wilcox and Graham Roland, directed by Chuck Russell, and is looking for someone to play young Wyatt, who is described as a sickly, thin white man in his mid-20s. They're looking for "bald actors or actors willing to shave their head." [TWoP Forum]
In case you're not quite up to speed on the whole alternate universe concept yet, here's another video from the creative team explaining it: [Fringe Television]
A few new set photos are online: [Susan Gittins's Flickr]

There's a slightly more detailed synopsis available for the second episode, "The Box", along with additional listed guest stars:
The story alternates to the Fringe Team "over here" where they investigate a mystifying case that people are discovered in a trance-like state that ultimately leads to their death. The unlikely suspect: a mysterious box. As Peter and Walter collaborate to study its properties, alternate Olivia presses on and turns up the heat on an unsuspecting Peter. Meanwhile, key information about the future is revealed when Walter and Nina meet at Massive Dynamic for the emotional reading of the last will and testament of William Bell. Guest Cast: Sebastian Roché as Thomas Jerome Newton; Russell Harvard as Joe; Artine Brown as Mitch; Kyle Cassie as Darryl; Hiro Kanagawa as Executor; Eric Lynch as Homeless Man
Chuck:
The seventh episode will reportedly be called "Chuck vs. the First Fight." [SpoilerTV]
The Event:
The fourth episode is reportedly titled "A Matter of Life and Death", and it features Hal Holbrook's debut on the show. [@NickWauters]
Doctor Who:
Child actor Jamie Oram has, according to his CV, been cast as a little boy in the fourth episode, "What Are Little Boy's Made Of?" (I'm going to assume that apostrophe is a typo.) There are conflicting reports as to whether his character is named "George" or "Harry." The fourth episode is thought to be the Mark Gatiss episode, but reports indicate he might actually be in the Neil Gaiman third episode. His parents are reportedly Emma Cunniffe and Daniel Mays, who recently appeared as Keats on the final series of Ashes to Ashes. [Alphabet Kidz & Spotlight]
Warehouse 13:
The great Allison Scagliotti calls the next episode the Indiana Jones episode, and explains why:
I mean that the team goes to Egypt, and there's a good bit of adventuring. There may even be an Indiana Jones joke pointed at the Artie character… That aside, my character, Claudia, stays behind in the warehouse, and it's revealed that her destiny is not up to her choosing - that her future is part of the warehouse design and she's far more important to the warehouse than one would assume.
She confirmed the regents are involved in the craziness, and as for H.G. Wells, she gave about as cryptic an answer as is possible:
I don't want to specifically say that there's going to be a major betrayal, but there may or may not be a major betrayal.
A bunch of new sneak peeks are out for the first episode of the big two-part finale, featuring a visit to Warehouse 2 in Egypt:
Click to view

Caprica:
There's a new sneak peek for the midseason premiere, "Unvanquished": [SpoilerTV]
And a bunch of new promos are out, along with a fourth video that provides a catchup for season 1.0: [CapricaTV] Click to view

Click to view

Click to view

Click to view

Stargate Universe:
Syfy has released a pair of lengthy synopses for the first two episodes, "Intervention" and "Aftermath." Let's start with the premiere, "Intervention":
Control of the Destiny hangs in the balance as the battle continues between the crew andthe Lucian Alliance.

Colonel Young and most of his military personnel are held at gunpoint by the Lucian Alliance. Dannic intends to kill them but is convinced by Varro, a fellow Lucian, to exile them instead. Dannic agrees and the group is forced to travel through the Stargate to a rocky, uninviting planet. Shortly after arrival, they are joined by Varro and his men who have been deemed as traitors and also banished. When a deadly electrical storm begins to brew, all must work together to find safe shelter and survive.

Dr. Rush, Brody, Chloe and Eli have sealed themselves off in the hydroponics lab and have managed to obtain some control of the ships power. Dr. Rush conceives a risky plan to force Varro and the Alliance to surrender by draining the power from most of the ships shields. He informs Varro that when the next energy blast from the binary pulsar hits, everyone other than those in the lab will be killed by the radiation. An enraged Dannic refuses to back down, no matter what the cost.

While an injured Lt. Johansen lies in the infirmary, her subconscious visits a familiar place where she receives some startling news.
And now the second episode, Aftermath:
With food and water supplies running dangerously low and tempers flaring, a shuttle is deployed to an unstable planet whose Stargate has been locked out of Destiny's controls.

The Lucian Alliance prisoners are growing restless and desperate. They know food and water supplies are dwindling and ponder what their future may hold. After conducting interviews with some of the Lucian's, Camile Wray believes a number of the prisoners can be trusted and may even be helpful. Col. Young disagrees and is of the opinion that they are dangerous. After a group of prisoners attack their military detail, he orders that they be relocated to the next habitable planet.

Still recovering from his torture at the hands of Kiva, an exhausted Dr. Rush manages to unlock the master code to the ship's bridge. There he finds a planet within range that seems viable but for some unknown reason, has been locked out of Destiny's controls. Its Stargate also appears to be non-functioning. With the need for food and water becoming dire, he decides to override the ships controls and have a crew deployed to the planet in the hopes of finding much needed supplies.

Lt. Scott leads the team to the planet. On approach their shuttle encounters violent turbulence followed by power failure. It crash lands and slides into the side of a cliff causing critical damage. The only way back to the Destiny is through the planet's Stargate and when they find it, it is in far worse condition than anyone could have imagined.
Supernatural:
Here are two promos, one for the first episode in particular and the other for season six in general: [SpoilerTV]
And now a synopsis for the second episode, "Two and a Half Men":
SAMUEL CREATES CONFLICT BETWEEN DEAN AND SAM - Sam (Jared Padalecki) investigates a case about missing babies whose parents are being murdered. At one of the crime scenes, he discovers a baby that was left behind and calls Dean (Jensen Ackles) for help. Reluctant to leave Lisa (guest star Cindy Sampson) and Ben (guest star Nicholas Elia), Dean finally agrees to meet Sam and surprises his brother with how parental he has become.... The brothers take the baby to Samuel (Mitch Pileggi), who decides to raise it as a hunter, which infuriates Dean. However, before they can decide the baby's future, a shape-shifter breaks in and attempts to kidnap the baby.
Jared Padalecki discusses the new season in this interview: [SpoilerTV]
Smallville:
Five new brief promos are online. Here are the two longer ones, clocking in at a rotund eleven seconds each. The rest are at the link. [KSiteTV]
In the episode "The Shield", Lois goes to Egypt, leading The Daily Planet to hire Cat Grant to take her place. Deadshot appears to be out to kill Cat, but his real agenda involves "The Blur." While in Egypt, Lois meets Carter Hall and learns of his wife Shayera. [@MattMitovich]
And finally, an on-set interview with Erica Durance: [SpoilerTV] Click to view

Additional reporting by Kelly Faircloth and Charlie Jane Anders.