The Wall Street Journal profiled Bill Gates Sr. this weekend in preparation for his upcoming book, but the juiciest bits by far involved Bill Jr. For example, there's the "water incident":
The future software mogul was a headstrong 12-year-old and was having a particularly nasty argument with his mother at the dinner table. Fed up, his father threw a glass of cold water in the boy's face.

"Thanks for the shower," the young Mr. Gates snapped.
Oh no you didn't! Now, where's that spitfire in the I'm a PC ads? Who doubts that a cold glass of H2O in "I'm a Mac's" face wouldn't sell a few more laptops to paid actors at conveniently well-lit Best Buys? Not me, that's for sure, not me.
But back on point, this Bill Gates Sr. fella has led a pretty substantial, and quiet, life thus far. The 6-ft. 6-in. 83-year-old philanthropist helped found the Gates Foundation, which he oversees today side-by-side with his son. His quiet demeanor meant he often played peacemaker between Bill Gates Jr. and his mother, whose heated arguments ultimately led to that glass of water to the face (it was one of Sr.'s rare outbursts).
Senior was also there to court Steve Ballmer, and later to serve as legal counsel for Microsoft (his law firm later became MS's biggest client).
His aforementioned role in philanthropy, however, is what impresses me most. The Gates Foundation, now a worldwide behemoth focused on global issues (remember those TED mosquitoes?), had humble beginnings:
In the early days, Mr. Gates Sr., who soon remarried, would scribble a few notes on the most-promising requests for donations. He would then put them in a cardboard wine box that he periodically sent to his son's house. The box would come back with Bill Jr.'s responses. Mr. Gates Sr. would then reply to all the grant seekers, sometimes including a $1 million check with little more than a single-page letter of congratulations.
G/O Media may get a commission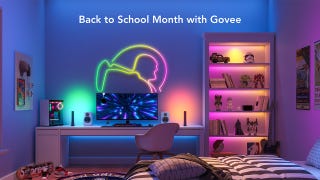 Back to School
Back to School Month with Govee Sale
Mac, PC, Linux, Speak-n-Spell or otherwise, you can't find fault in that. [WSJ]