Bill Skarsgård became a horror icon thanks to his portrayal of Pennywise in last year's horror hit It, a role he'll reprise in the sequel next year. In between, he's got another sinister turn in another Stephen King-inspired tale, Castle Rock. But as the actor explains, the characters couldn't be more different.

"I was reluctant to [take another King-inspired role] in the beginning, because I didn't get to read the script or anything. They just reached out that they were interested in me for a role, with like a short two-sentence description, and it was [set in] a Stephen King multiverse," Skarsgård said at Comic-Con's Castle Rock press room. "I didn't know if it was a TV version that would cross paths with It, or Derry, or that world. I mean, it wouldn't, because that was a movie. But I was like, 'Is there going to be a TV Pennywise?' I had no idea what the show was. But they kept being persistent, and they finally allowed me to read the script.
"As soon as I read the pilot, I [realized] it was a completely different world, an original world, and this character is so different than the character I just played. Incredibly different. This character couldn't be further away from Pennywise, who's all, like, 'Baaaaaa!' And this guy's so reserved. As soon as I read the pilot and sat down with [creators] Sam [Shaw] and Dusty [Thomason], I was like, this is something really cool and something I really want to be a part of."
Skarsgård's mysterious character appears early on in the first episode of Castle Rock. From what little we know so far, "the Kid"—who barely speaks, but conveys volumes through his hollow, haunted eyes—has no memory of his name or how he ended up stashed in a tiny cell in the sub-basement of Shawshank prison. His presence helps set Castle Rock's overall tone—which is quite different than the tone of It.
G/O Media may get a commission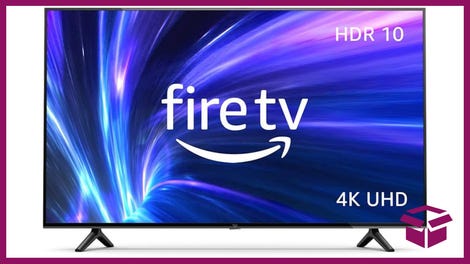 42% Off
Amazon Fire TV 50" 4K Smart TV
"This is more creepy than horror, maybe even more mystery than horror. It's supposed to feel sort of malevolent. It's more of a slow build of weird mystery as opposed to your traditional horror," Skarsgård said. "It is not a traditional horror movie at all, but it's more of the jump scares—more of an intense visual ride. [Castle Rock] is a more slow-fog build."
You might be surprised to hear that one of the most prominent figures in contemporary horror doesn't consider himself to be a diehard horror buff, per se. "I've never understood the appeal of feeling really scared. I know that people do find it really thrilling. For me, artistically it needs to be worth the effort of me feeling uncomfortable watching it," he said.
But don't worry. Pennywise isn't a hater. In fact, Skarsgård genuinely appreciates horror, even if he's selective about which scary movies he puts in his own personal queue. "It's a fun genre. It's so creative. The horror fan base is fantastic. It really has devoted fans, and I like that aspect of the genre. The people who are making it are always really wonderfully nerdy, creative people, which I always love."
Castle Rock hits Hulu on July 25.