Black Mirror's showrunners didn't intend for every episode of the fourth season to feature a female protagonist, but they're thrilled that's how it played out.

As pointed out in The Hollywood Reporter, the next season of Black Mirror features a predominantly female-led cast. From the Star Trek parody "USS Callister" to the Jodie Foster-directed "Arkangel," all the episodes star women (though the online dating episode "Hang the DJ" features a male co-star). When asked about this, executive producer Annabel Jones said it wasn't intentional—and it certainly wasn't a commentary on 2017 social politics, since the episodes were written in 2016—but that they're happy with the results because the right women ended up in the right roles.
"[Showrunner Charlie Brooker] and I don't tend to think about the stories that way. Sometimes, it just comes out," Jones said. "But it's great—great!—that they're all strong female protagonists. I think what's lovely about the show is that it's not a strident statement. It's more: Why not? We don't even think about it from a gender perspective, and I hope that's progress."
Most of the episodes, like "Metalhead," were written with female stars in mind. However, one of them was originally written for a man, only to be changed later on. "Crocodile," about a mother using memory tech to solve a crime involving her child, was supposed to be about a father—that is, until actress Andrea Riseborough (Battle of the Sexes) came in to read for the part.
Andrea read for one of the other parts and she really liked the journey of the protagonist [in "Crocodile"] and she challenged us and said, "Do you think it could be a woman?" Then we sort of said, "Oh, hold on." We hadn't quite thought about that. We questioned it and worked it. Apart from the physicality element of it—a requirement that plays out in the episode's first few minutes—we thought, "How often do you see a mother reduced to this level of desperation?" Then we thought that was actually quite interesting, and that's the result of Andrea's role.
Black Mirror returns with season four on December 29.
G/O Media may get a commission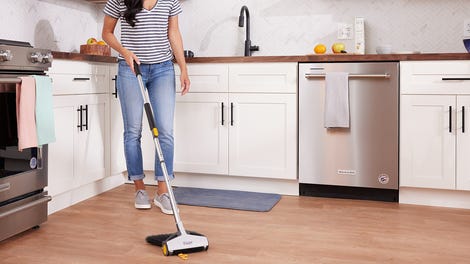 BOGO 50% Off
Flippr - BOGO 50% Off