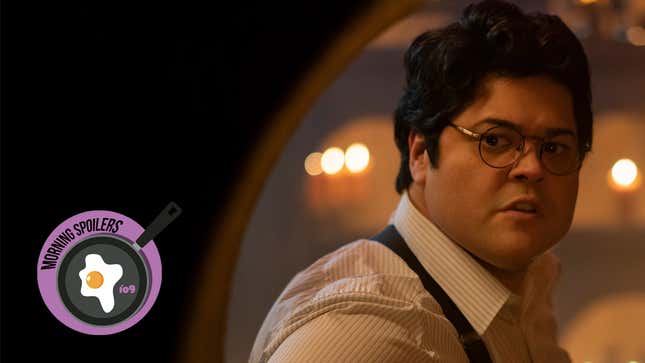 No, don't expect to see Jyn Erso in Andor season 2. Vincent D'Onofrio teases the differences between Born Again and Netflix's Daredevil. Gamera: Rebirth offers a hint at Zigra as one of his foes. Plus, another new look at Boots Riley's I'm a Virgo. Spoilers get!


The Damning of a Country Merchant
Deadline reports Peter Sarsgaard and Mackenzie Davis are attached to star in The Damning Of A Country Merchant, a "twisted horror" film from director Matthew Rosenbaum set in 1910 Indiana. The story follows "the patriarch of a rural mercantile family (Sarsgaard) whose way of life is suddenly disrupted by a charismatic industrialist who has entered into a secret affair with his wife (Davis). When rising tensions mistakenly lead to the death of a customer, his wounded authority and masculinity leave him vulnerable to truly bizarre and horrific forces causing unimaginable chaos and terror."
---
Blue Beetle
Entertainment Weekly has our first look at Harvey Guillén as the "complex" Dr. Sanchez in Blue Beetle.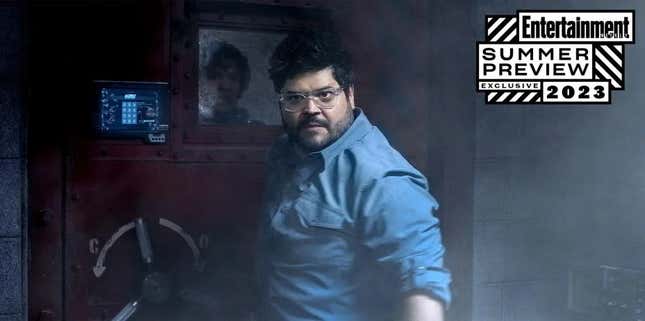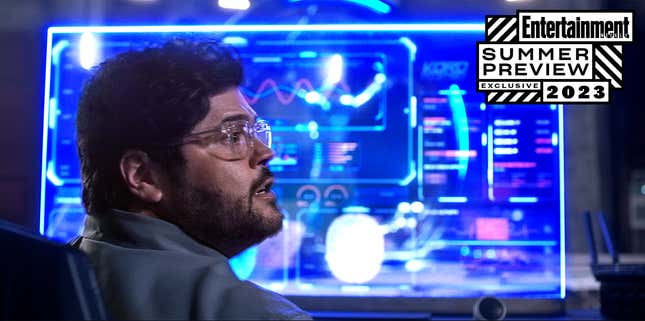 ---
There's Something in the Barn
Bloody-Disgusting also has our first look at There's Something in the Barn, a new Christmas-set horror film described as "Gremlins meets Home Alone meets National Lampoon's Christmas Vacation." Starring Martin Starr and Amrita Acharia, the story follows "a typical American family who inherits a farm in the Norwegian mountains and crosses paths with a tricky creature from Nordic folklore, the Barn Elf. The family must avoid incurring the wrath of this gnome-like Santa by eschewing all bright lights and loud noises and making sure to leave a bowl of porridge on Christmas Eve."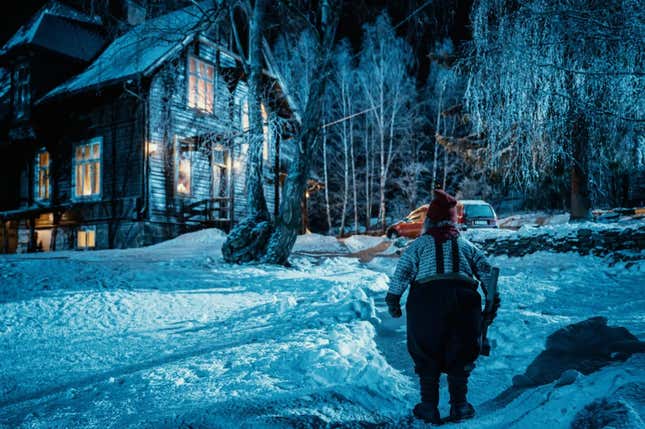 ---
Spider-Man: Across the Spider-Verse
The latest TV spot for Spider-Man: Across the Spider-Verse includes voiceover narration from Tobey Maguire, Andrew Garfield and Tom Holland.
---
Transformers: Rise of the Beasts
The Autobots finally meet the Maximals in a new clip from Transformers: Rise of the Beasts.
---
The Haunting of Hell Hole Mine
Elsewhere, the late Time Sizemore buys a gold mine possessed by the Shakani, "a supernatural being conjured by the Shanowah tribe ages ago to defeat their enemies" in the trailer for The Haunting of Hell Hole Mine.
---
Star Wars: Andor
During a recent appearance on BBC One's The One Show (via Comic Book), Felicity Jones stated she "won't be" reprising her role as Jyn Erso in the second and final season of Andor.
I'm afraid to say I won't be, but I still have hope for Jyn Erso at some point to make a comeback. But no, sadly I won't be.
---
Daredevil: Born Again
During a recent interview with Comic Book, Vincent D'Onofrio stated Daredevil: Born Again will feel like "a new show" compared to the Netflix series.
I think it's definitely a new show. It's not the Netflix show. It's definitely a new show. I mean, all I can say is that Charlie [Cox] and I are not bored. We are having a great time. We have a great cast, and I think everybody else is having a great time too. Charlie's one of my favorite people, and I know that he comes here every day ready to knock it out of the park and you know how I am, I'm totally into this part, so I'm there for the same reason.

We're really just delivering. It's a lot of work. Charlie's amazing because he has to do all the stunts and stuff, so he's in constant training and learning different things. But the scenes are great. I'm trying to skirt around specifics, but I can only say that it is a different show and it feels like a different show.
D'Onfrio also revealed the Kingpin's wardrobe will be inspired by "later runs" of the Daredevil comic book this time around.
We're not going to do anything like we did in Hawkeye, no. If you were to look back at all the other comics except for Family Business and see the different iterations of Kingpin, the way he dresses and the way his appearance is, I would say we're still doing the kind of later runs look of Daredevil. When it comes to Kingpin, we're still doing that kind of feel.

In fact, I won't tell you which one, because I know this is going to make you feel terrible that I'm not going to tell you, but we've actually, at times, mimicked some [Daredevil comic art] sometime. Not actual art, but the feeling of the composition of the painting or drawing. Just the other day, one of the directors, we were doing a scene and he's like, 'Gosh, this is really kind of reminiscent of...,' And I'm like, 'Yep.'
---
Welcome to Derry
Andy Muschietti shared the office door of Derry's Chief of Police, Clint Bowers, on Instagram.
---
Gamera: Rebirth
Perhaps more excitingly, the official Twitter page of Gamera: Rebirth also shared a new image of Zigra's underwater silhouette.


---
I'm a Virgo
Meanwhile, the thirteen-foot tall Cootie goes outside for the first time in a clip from Boots Riley's new series, I'm a Virgo.
---
Yellowjackets
Finally, the team mourn in the past but party (?) in the present in the trailer for "Burial," this week's episode of Yellowjackets.
---
Want more io9 news? Check out when to expect the latest Marvel, Star Wars, and Star Trek releases, what's next for the DC Universe on film and TV, and everything you need to know about the future of Doctor Who.