Blue Microphones is best known for, uh, microphones. And not just any mics; they specialize in the expensive studio kind, well-regarded for sound and design, not the beaters you used in your high school garage band. But while Blue's headphones pop, they're not much for getting around.
Blue has been teasing its $350 Mo-Fi headphones since late last year, and today, the company is finally announcing availability. Hurray! First, the basics: The cans have 50mm drivers, the biggest you ever see on headphones. Unlike other audiophile-grade kit out there, they've got built-in amplifiers which could help improve audio quality and take the power load off your mobile device. Noise-canceling headphones have amps, too, but that's a different category and the amps serve a different function.
It's not entirely unheard of for a microphone manufacturer to make headphones, and in fact, that's where some of the earliest consumer headphones originated. Companies like AKG, Sennheiser, and Shure all introduced innovative microphone technologies years before they became known as headphone companies. Founded in 1995, Blue is a much newer name than those legends, but given the current popularity of headphones, it's not surprising that it wants to get in the game as well.
Unlike other opportunistic companies that have spent the last few years churning out plastic Beats clones, Blue Mo-Fis are an inventive take on headphone design. Everything from the construction to the guts challenges conventions, testing consumer taste with original ideas. What's more, Blue has had success in recent years scaling its professional microphone sound down to some very mass market products like USB microphones for podcasting and voice chat. These products are some of the best you can buy, even if they're not necessarily the cheapest. It'll be interesting to see if Blue's bombastic approach to design and uncompromising sound helps it find a niche in headphones as well.
G/O Media may get a commission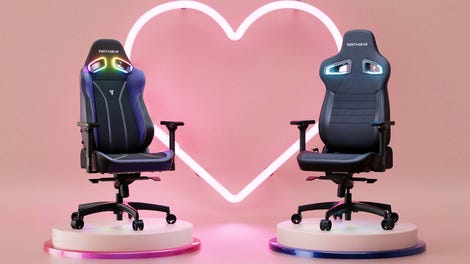 Up to $150 off
Vertagear Gaming Chairs
Design
The Mo-Fis have a unique multi-hinged aluminum headband design that makes the headphones look a bit like a crouching mech beamed back from the dystopian future. The headband bends at six joints that move together like a machine.
The bottom two joints are situated directly above the ear cups and rotate forward and back a bit like a shoulder.
That shoulder's connected to another pair of joints on each side. Between the joints are parallel strips of spring-loaded aluminum that move together, a bit like a car suspension, to hold the cans on your head securely without pinching.
The tension of that fit is further customizable by a little wheel on the top headband.
The headphones have three settings—Off, On, On+—which you toggle between with a rotating switch on the bulbous back of the right earcup. When the headphones are On, a hidden light behind a chrome-ish "Blue" logo glows soothingly. The headphones have removable/replaceable cables, which connect through a hole in the butt of this switch. Unlike other headphones with replacing cables, these don't have a locking mechanism, which is annoying.
The 12-hour battery that powers the amplifiers charges via USB, just as you'd expect. In a clever design choice the headphones shut off when the earpads touch, so you don't waste power when you forget to turn the headphones off after using them.
Though it's unusual for a set of headphones, the design mimics the ornate, polished look that makes Blue Microphones recognizable. These cans aren't totally unattractive, though it does feel a but like you're strapping an over-engineered science-fiction headset on. You keep expecting them to teleport you, or to come with an option to set to stun.
In the end, you pay for the engineering excess in weight and volume: The Mo-Fi headphones weigh just over a pound, which is considerably more than other cans out there. I usually consider anything over 10 ounces heavy. This is the first pair of headphones I can actually see in my peripheral vision while I'm wearing them.
Using It
Despite their heft, the headphones don't feel quite as heavy as they are thanks to the intense jointing which distributes weight evenly. I have an enormous head, and I quite liked the ability to loosen up the headphone tension. Still, while they're impressively comfortable for their size, the headphones are a little cumbersome to port around in a backpack, and I'd never choose them for the train on my daily commute. If you buy these headphones they will ultimately live on your desk.
They're not totally inconvenient though; the built-in amplifiers that are perfectly matched to the drivers make up for much of the hassle. Many people use headphone amplifiers because the extra power potential can improve sound quality. Some people actually carry around portable USB products to make their headphones sound better, and companies like V-Moda have tried to integrate amps into case design to make them more accessible. Though the Mo-Fi headphones use your source device's digital-to-analog converter, their built-in amps could be more convenient for someone who was otherwise going to carry around a separate piece of gear to perform that function.
The Mo-Fis sound very good in all three mode settings. In the off position, they're entirely passive, drawing all of the power driving the diaphragms from the music source. (I'll call the source a "phone" from now on, but it could be a computer, a tablet, a stereo—anything with a headphone jack.) In this mode, you've got to push your phone's volume higher because, duh, no headphone amp. It's a testament to the company's engineering that the Mo-Fis sound passably clear and balanced across frequencies, even when they're off.
Turn the volume way down on your phone, flip the headphones to On, and suddenly the sound seems to spring to life. (You should really turn them down, by the way, because the additional power makes the maximum output of the headphones way too loud to listen to without damaging your hearing.) When in that first On setting, the high frequency response gets a little more pop, and dynamics in your favorite recordings are more apparent. You'll also notice that middle and bottom of the tonal range fill out. Blue doesn't ignore the popularity of bass-heavy Beats. The On+ setting is designed for people who are interested in a little push but don't want flavorless thud. The setting flips on a separate circuit designed to bring out the low frequencies. It's a subtle effect, which beefs up the bass in the music without creating noticeable distortion or losing any detail. It's worth highlighting that both the On and On+ settings are analog circuits—no digital signal pressing at all. DSP done right is great, but too often it's a an unfortunate shortcut.
In all of the modes, the headphones are nice and immersive with great spatial feel. You'll lose yourself to the music and forget about the world. I love them—until I've got to run errands.
Like
Great sound. Clever design touches.
Dislike
Unwieldy to the point that you're probably better off choosing something else, unless these are going to live at your desk.
Should I buy it?
Probably not. Don't get me wrong, Blue Mo-Fis sound really great, and the design is innovative, and creative. I simply find their heft a little impractical. Sure, if they were just going to sit in a single location by a fancy stereo they'd be fine and maybe even amazing. But the reality is that these days, we use our headphones in a variety of situations throughout the day, and the design of a product should bend to that lifestyle. That said, if you're the type of person who's carrying around a portable headphone amp—or who only uses headphones at your desk—this is probably more convenient.