Broadcom co-founder Henry Nicholas was arrested in Las Vegas on suspicion of trafficking narcotics, police told reporters on Thursday. Authorities say the billionaire entrepreneur and philanthropist was found with heroin, cocaine, methamphetamine, and ecstasy in his hotel suite.
According to the Los Angeles Times, Nicholas was staying at the Encore hotel when security alerted Las Vegas Metropolitan Police to the presence of illegal contraband in his suite. On Tuesday night, law enforcement detained him along with a woman named Ashley Fargo and subsequently booked the pair on suspicion of drug trafficking.
Nicholas has reportedly been released from custody, and according to CBS News, a court hearing is scheduled in September.
The Los Angeles Times characterizes Nicholas's defense attorney, David Chesnoff, as "perhaps Las Vegas' best-known defense lawyer." Chesnoff did not say how his client will plea, and simply told reporters, "We're gathering the facts and we will address the facts in court."
G/O Media may get a commission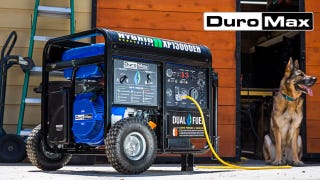 Black Friday Sale
DuroMax Generator Sale
Nicholas co-founded the giant semiconductor manufacturer Broadcom Corporation in 1991 with a $5,000 investment of his own money. It has since become one of the largest tech companies in the world, producing chips that are found in all sorts of devices we use every day. The 59-year-old retired from the company in 2003 and it has since gone on to merge with Avago Technologies to become bigger than ever. Forbes lists Nicholas's current net worth at $3.1 billion.
The former CEO has long had a dual-natured relationship with the law. Among his many philanthropic efforts, he's spent decades fighting for the rights of victims of crimes and the Marsy's Law national organization, which has passed legislation in five states.
He's also found himself indicted for improperly backdating stock options and drug-related offenses. Those charges were dropped in 2009 and 2010, respectively. But in the wake of the charges, salacious rumors about secret sex lairs and drug addiction spread through the press. Vanity Fair chronicled allegations against him by former colleagues that included an addiction to sex workers and a predilection for spiking colleagues' drinks. He checked into rehab for alcoholism in 2008.
Narcotics trafficking charges can be triggered simply by having a large amount of illicit substances in one's possession. Attorney and legal analyst Alex Kazarian told CBS Los Angeles, "It sounds like his biggest crime is being an addict." But Kazarian says that may not matter: "Unfortunately, the way the laws are written, if you're giving away drugs or if you're selling drugs, you're trafficking."
[NBC]