Products like the FitBit are rarely discounted, so you have to get creative if you really want a deal. A LivingSocial Brookstone voucher might not seem that exciting at first blush, but you can parlay it into an effective $25 off the most desirable products with the stickiest prices. Dig, and let us know what you come up with. [LivingSocial]
We've (and by we've I mean you've) crowned our Best Graphics For The Money Winner. Check it out.
---
G/O Media may get a commission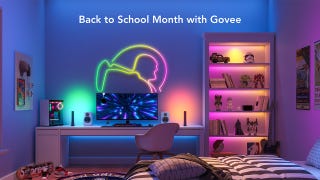 Back to School
Back to School Month with Govee Sale
Couple of great 360-related deals available today, and if you need a new 360 or a replacement 360 or a 360 for a friend, forget Black Friday, I'd pull the trigger right here. Discounts on LIVE, discounts of Ghosts and Battlefield 4, it's all here.
Just for clarification: the $50 gift card will happen automatically. To get the $20 discount, add a year LIVE membership to your cart. You can click "Special Offers" if you want to read more.
---
We're going in hot. Grab today's mega-release of Call of Duty: Ghosts for the Xbox 360, PS3, and even Wii U for just $45 on its release day. Keep that wallet frosty. [Newegg via eBay]
PC gamers can pay $3 more to get the [Steam] version from GreenManGaming using promo code GMG20-P6Y1F-KC19F [GreenManGaming]
---
We recently recommended you buy the Panasonic ST60 Plasma, because it's the best TV. However, if that's way out of your price range, or you don't like Plasma, then this 50" Smart LED, also from Panasonic, which is selling for $1300 elsewhere, is only 750 bucks today on Amazon. Ballerina not included. [Amazon]
---
If you're building a new PC, and Windows 8 isn't your cup of tea, save yourself $30 today and get a full Windows 7 license instead.
---
---
Storage
Headphones
Home Theater
Mobile Devices and Accessories
Computers and Accessories
Input
Monitors
Parts
Networking
Media and Gaming
Movies
Games
Photography
Apps
iOS
Android
Clothing
Life
Hobomodo
---
Follow Gizmodo Deals on Twitter to never miss a deal. Get in touch with Shane Roberts onTwitter or by e-mailing Shane@Gawker
Every weekday the Commerce Team brings you Gizmodo Deals, Kotaku Deals, and Lifehacker Deals, the very best coverage of deals on consumer technology, video games, apps, and everything else you care about. When you buy, we also make money. We want your feedback.