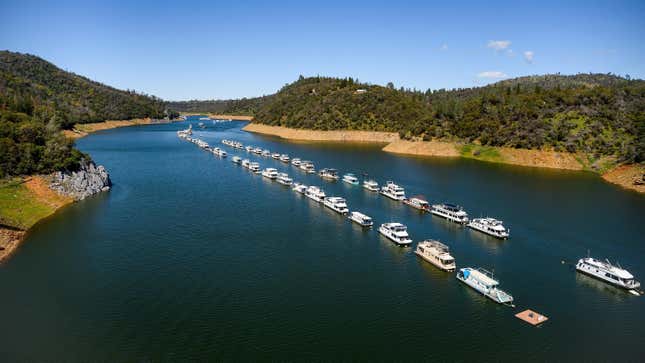 Last year, California's waterways were disappearing. The West was gripped by a historic megadrought that left major reservoirs at historic lows, slashed hydropower, and messed with produce prices.

But a series of atmospheric rivers dumped a ton of snow and water over the state, and things are looking very different today.
As of April 6, most of Central California and areas along the coast are no longer experiencing drought conditions, according to the U.S. Drought Monitor. In fact, more than 56% of the state has absolutely no form of drought. It's not even abnormally dry in Central California anymore. Exactly one year ago, almost all of the state was experiencing extreme and severe drought conditions.
Lake water levels have rebounded impressively. At Shasta Lake, California's largest water reservoir, water levels rose from 40% of regular capacity last May to 85% capacity as of April 5. Other major reservoirs have seen a comeback, too. This time last year, Lake Oroville stood at 48% capacity, according to Department of Water Resources data. But this week, the lake is at 83% capacity.
The barrage of storms may have brought much needed water, but the resulting heavy flooding was intensely destructive. Record levels of snow across California's mountains this year will become snowmelt, which will continue to feed California's waterways. "We know there will be flooding as a result of the snowmelt," said Karla Nemeth, director of California Department of Water Resources said, according to the Associated Press. "There's just too much snowmelt to be accommodated in our rivers and channels and keeping things between levees."
Here are some before-and-after photos that show how much has changed in California from 2021 to 2023.