It started as an offhand brag, but turned into a dare. I was telling my Gizmodo colleagues why I loved my Windows 8 tablet: it's fast, it's cheap, it's a fully fledged PC. Hell, I said, I could probably hook it up to a monitor and use it as my workhorse for a week.
Now I'm doing just that. It's not as bad as you'd think.
Before we get into this, let me tell you what I'm not talking about: the $800+ Microsoft Surface Pro. That's a fine tablet, but my device of choice is a $300 Dell Venue. The Venue 8 Pro is one of half a dozen cheap slates that punch well above their price tag. In fact, that's exactly why I bought it—Windows 8.1 loads web pages faster than my similarly priced Android tablet ever did. It's a real PC. So this dare is totally going to work out in my favor... right?
My quest was almost over before it began: the Venue 8 Pro has only one tiny micro USB port, and I quickly learned that it refuses to charge the tablet if you plug literally anything else in. My keyboard, mouse and DisplayLink monitor adapter all forced the tablet to use its battery instead. It doesn't matter how capable the slate's little Intel Atom processor is—if I couldn't get it to last through a work day, I'd lost the dare. So, I did what anyone would do: I asked Google. And Google pointed me to an entire community of people trying to find an answer.


G/O Media may get a commission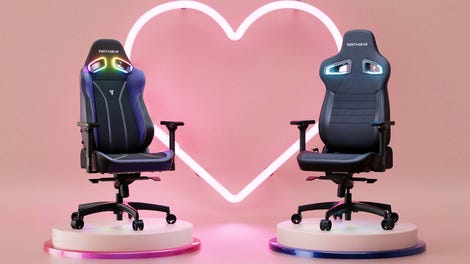 Up to $150 off
Vertagear Gaming Chairs
Buried deep within the "Dell Venue 8 Pro Owners Lounge" on the TabletPCReview forums, I found answers: some users had modified their USB hubs to trick the port into accepting both power and data connections. (Others gave up, opting for wireless keyboards and Miracast monitors instead.) And one particularly enterprising group actually designed and Kickstarted a purpose-built hub just to get their tablets to become makeshift desktops.
I settled on the cheapest, simplest solution possible: a splitter, an old DisplayLink USB hub, and a switch that causes an "accidental" short in the connection to initiate charging (Dell actually makes its own cable for this, too). I have no idea how this bizarre combination of wires actually works, but at the end of the day my tablet had three full-sized USB ports, a monitor and a mouse and keyboard. That I can work with.
All told, getting the entire thing set up was kind of a pain in the ass, but it worked! My super-sized tablet was more than capable of getting me through the work week. I could juggle half a dozen tabs for research, write posts in Kinja's web-based editor and even edit, resize and watermark photos in Manga Studio 5 (Shush, I use it for drawing on the tablet and was too lazy to install Photoshop). Fantastic.
The little rig even multitasks fairly well—feel like listening to some music? Spotify lurks in the background without a hitch. Want to get social? Alt-Tab into Tweetdeck, not a problem. Microsoft Office, Google Hangouts, Steam and all my other always-on desktop apps ran just fine. But it's not a full replacement for my desktop.
The longer I used my makeshift workstation, the more I started to notice little flaws. Exceedingly long pages (an endless Twitter stream, for example) gave my otherwise smooth browsing experience some pause, as did opening more than a dozen tabs at a time (What? I'm a busy guy). It wasn't enough to force me to switch to my laptop, but it did make me more aware of the tablet's limitations.
I worked my way through these issues and forgave the setup for the sake of the novelty: people used to talk about "working from their iPad," but I really did work from a tablet. I loved it. The Dell Venue 8 Pro was a $250 toy I bought to draw cartoons and read digital comics—now it's a versatile, portable workstation. It has its issues (and leaves me yearning for the transition features Microsoft promises for Windows 10), but it's a start. Maybe the next generation of small, cheap Windows tablets will be a little more considerate of weirdos (like me) hell-bent on carrying around an 8-inch do-it-all PC. High hopes, I know.
As for that bet? I think I won: it's been a week (longer, actually) and I'm still working from a ridiculous, rigged-up 8-inch tablet, and perfectly happy doing it. On the other hand, I wouldn't recommend the experience to anybody less stubborn or hell-bent on alternative computing than myself—and certainly wouldn't call it a setup ready for the average user. Dell clearly never intended for anybody to use its plucky little tablet this way, and that's a shame.
At best, it's a sample of what our slates could be capable of in the near future. I genuinely hope that tomorrow's tablets will be built with this kind of modularity in mind. Until then, my jumble of wires, adapters and switches is good enough for me.
But I'm a stubborn, tinkering madman. Most people should probably just wait.