Replacing their rigid predecessors, inflatable poles offer advantages like ease of setup — you just pump them up — and increased strength. Disadvantages are weight and complication. Worth it? We spent a week living in an inflatable tent to find out.
Pictured above is the Heimplanet Mavericks tent, built to resist 120mph winds thanks to its inflatable, geodesic dome structure.
Inflatable tent poles first hit the camping world at the beginning of the decade, with small companies like Heimplanet using them to launch radical-looking designs and a new brand. High-end equipment maker Nemo quickly adopted the technology for some of its minimalist backpacking shelters.
Why would you want an inflatable pole? According to Nemo, "The advantages of [inflatable tent poles] include faster and easier setup, greater strength and wind resistance, easy and reliable repair in the field, smaller pack size and the ability to bend without breaking."
G/O Media may get a commission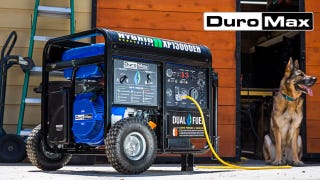 Black Friday Sale
DuroMax Generator Sale
The disadvantages are weight and the need to carry a pump.
Regardless of manufacturer, inflatable poles seem to all be constructed of a TPU "inner tube" (just like on your bicycle) housed inside a thick, sturdy polyester sheath. That sheath protects the inner tube from punctures and abrasion and also adds some stiffness to the structure when inflated. The design also requires valves, Velcro pads to hold the feet of the beams in place and some sort of pump to blow the poles up. Typically inflated at 6-9psi, that pump really is necessary, human lungs struggle to easily inflate anything beyond 2.5psi. All that stuff adds weight compared to the simplicity of traditional aluminum, fiberglass or carbon fiber poles. Nemo's inflatable 2P Morpho Elite tent is nearly double the weight of its rigid pole counterparts, despite its expensive, $600 price tag.
Most inflatable pole tents are not freestanding designs, meaning they require the tension of stakes or guy lines to stand up. That can limit the surfaces on and areas in which the tent can be used.
When we visited Maui's secretive east side a couple weeks ago, the girlfriend and I carried along a Kelty Airlift 4 tent ($440) as part of our luxury car camping loadout. Its main advantage? Kelty claims total setup time is 60 seconds or less, far lower than the time required to setup similar, rigid pole structures and far simpler to accomplish for the kind of casual campers who typically employ such large, heavy family tents.
To setup the Airlift, you simply stake out all four corners, connect the included pump to the main X-beam tent structure and, five or six pumps later, the thing stands up on its own. The vestibule's smaller u-beam requires only three or four pumps. I never managed all that in 60 seconds, but 90 seconds proved a reliable estimate, still far quicker and far simpler than the assembly required by equivalent tents. With the Airlift, the rain fly is stretched across the top of the poles and the inner tent (where you sleep) is hung from them. You don't separate the two layers, so setup really is just a case of unrolling, staking and a few seconds of pumping.
You and I have both watched people in campgrounds struggle for half an hour or more with the assembly of traditional poles, rain flys and tent bodies.
Experienced campers, ease of use was less of a concern for Lara and I than the challenges imposed by Hana's rough terrain and unpredictable weather. Spending a few nights on a secret black sand beach required that we access our site by climbing down a 100-foot cliff using an old frayed rope. The survivability of inflatable poles was driven home when I was able to simply throw the Kelty tent bag down the cliff, saving me an entire trip down the rope wearing the 18lbs package on my back.
Doubly so when, on the second night, a storm blew a thick, 20-foot long branch off a tree and onto the tent. Most rigid poles would likely have been damaged by the impact, but the inflatable design simply bent inwards a few feet, before springing back into shape and sloughing off the branch.
Should an inflatable pole be punctured, you simply patch it as you would with a bicycle inner tube: remove the protective polyester sheath, find the hole and affix an (included) patch. Wait a few minutes and you're good to go again. Fixing a rigid pole requires sliding a metal "sheath" around the broken area of the pole or re-fitting the elastic cord that runs inside it.
Here's a good view of the Kelty's inflatable pole. The TPU inner tube rides within that thick, sturdy polyester sheath. A control valve in the pump limits inflation to 7psi, ensuring long service life.
The last advantage is packability. Last week, I rode motorcycles through British Columbia (feature story coming soon) and brought along my smallest, lightest backpacking tent. Despite its diminutive proportions, the poles were still around a half-inch too long to fit in the bike's hard cases, so I had to strap it to the passenger seat. With an inflatable tent, you're free to stuff it and compress it into the most compact shape possible, as you would a sleeping bag. And, once it's all wadded up, you don't have to worry about applying torsion to any rigid poles. Most backpackers and other campers will be more worried about weight than they will about space, but for some specific applications like motorcycle camping or carry-on-only air travel, this will be an important advantage. Heck, we simply checked the Airlift 4 as its own, unprotected item of luggage on our flight to Maui, safe in the knowledge there were no breakable parts to be damaged by cack-handed baggage handlers.
Backpackers will still be best served by the lighter weight of rigid pole tents and budget campers will find more value in traditional designs. But, because of the ease of setup, ability to resist high winds — by bending, not breaking — packability and ruggedness advantages, we do see a strong argument for inflatable pole tents when it comes to family car camping or luxury camping. Compared to other high-end tents designed for family camping roles, Kelty's Airpitch range carries only a minimal (~$40) price premium. Keep that in mind next time you're trying to insert tab A into slot C while applying tension to strap F after dark, in the rain.
IndefinitelyWild is a new publication about adventure travel in the outdoors, the vehicles and gear that get us there and the people we meet along the way. Follow us on Facebook, Twitter, and Instagram.