Micro-unit developments—new apartments that are 400 square feet or smaller—are sprouting up all over the country as cities try to cram more housing into their neighborhoods. New York City's first micro-unit development opened this month and it's controversial—even in a city where people already pay top dollar to live in tiny apartments.
We recently took a tour of a new micro-unit development called Ollie that just opened in Manhattan. Although Mayor Bill de Blasio is behind the most recent campaign to bring 80,000 affordable housing units to New York City, the push for this particular housing typology originally came from the previous city's mayor, Michael Bloomberg, who hosted a micro-unit design competition in 2012. The winning concept by Brooklyn-based Monadnock was this 55-unit tower, which was prefabricated in a Brooklyn factory to save money and energy.
Fast forward to 2015 and behold Ollie at Carmel Place, located in the rather sleepy mid-Manhattan neighborhood of Kips Bay. The unit we toured with Ollie's design director Jacqueline Schmidt was 302 square feet—made to feel even bigger with extra tall ceilings, shiny new appliances, and lots of blonde wood. In fact, the units come furnished with an array of shape-shifting built-ins and customized furniture that allow residents to make their living space feel bigger and more flexible. Plus all residents get free access to an app, Hello Alfred, which acts as a type of virtual concierge for tasks like pet-walking or picking up dry cleaning. The units range from $2000 to $3000 per month.
But wait, you're saying, I already know people who pay way more than that to live in apartments much smaller than 302 square feet. Yes, New York has its fair share of shoebox-sized apartments, but you couldn't build those from the ground up today. Technically the city requires all new apartments to be larger than 400 square feet, mostly to prevent developers from replicating tenement-type living conditions. But these apartments at Ollie are exempt, as part of this attempt to add more affordable housing to the local stock. (Some cities like Seattle are allowing units as small as 90 square feet.)
Now wait another second, you're saying, $2500 to $3000 for a studio in Kips Bay is not affordable! That's only the market rate (which is actually about the median Manhattan rent for a studio). The rents for the 22 affordable housing units are set at different rates based on income and need. Prospective tenants apply through a lottery and might pay anywhere from $1000 to $1500. 60,000 people applied.
G/O Media may get a commission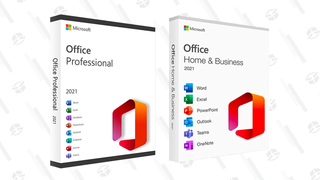 89% off
Microsoft Office Professional 2021 Lifetime License
So yeah, no one can deny that the demand isn't there for these types of units. But the bigger question is if these units are actually the right kind of new housing for cities to be building. If we're talking big picture here, the building as a whole is far more responsible than tacking yet another megadevelopment on the edge of sprawl, forcing all its residents to drive. But the worry is that these tiny spaces will become the new slums of the city, mostly occupied by lower-income residents who don't have much of a choice about where to live, further stratifying inequality problems. In cities like Los Angeles, for example, micro-units are still mostly being used as transitional housing for formerly homeless individuals.
Living in microscopic spaces has become almost a cultish badge of honor for some big city residents (and some rural folks, ahem, tiny house movement) who will probably be very excited about these units. And with the help of some very smart interior design, like at Ollie, a micro-unit can appeal to someone who might not have previously considered the option. For the right person—say, a baby boomer looking to downsize from a bigger apartment or a millennial who'd rather live close to work than commute—this sounds like the ideal living situation.
Whether we're ready for it or not, it's important to note that this is the future. In fact, the US is lagging far behind many other countries which already have micro-units as a vibrant part of their urban fabric. In a few decades most of the world's population will be living highly urbanized lifestyles and US cities need to start preparing for this reality now. It will take time to close the gaps in already-dense, transit-served neighborhoods so that the people who want to live there can find affordable homes. Embracing this way of micro-life is an inevitable reality, as tough as it may be for some Americans to confront.
Follow the author at @awalkerinLA