Late last month, a 4.4 magnitude earthquake shook the town of Fox Creek, Alberta. The province's energy regulator is pointing the finger at hydraulic fracturing which, if confirmed, would make it the largest earthquake ever to have been induced by the method.
The earthquake, which was severe enough to cause minor damage, happened on January 22. It was the largest of a swarm of earthquakes to strike the region across a 50 kilometer (31 mile) radius. The town, which is primarily sustained by oil and gas development, is located about 260 kilometers (161 miles) north of Edmonton and is home to about 2,000 people.
"It felt like a big gust of wind hit the house. The door flew open and the couch moved," noted Kelli Mcphee to the CBC. "My husband grabbed a bat and started walking around the house because we didn't know what it was."
In an email to the CBC, the Alberta Energy Regulator says its monitoring system picked up strong evidence that fracking caused this particular earthquake, and that it likely caused the swarm as well. But it admitted that it is "impossible to definitively state that it was not a naturally occurring event."
"The location of the earthquake is consistent with being induced by hydraulic fracturing operations," confirmed AER spokesman Peter Murchland in The Tyee, adding that "The AER regards all changes in seismicity that have the potential to indicate an increased risk associated with hydrocarbon production seriously."
G/O Media may get a commission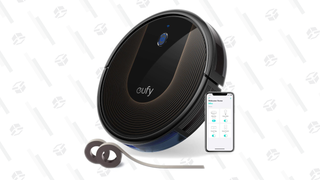 48% Off
Eufy BoostIQ RoboVac
According to The Tyee, several companies are cracking rock in the Duvernay shale at a depth of 3,000 meters to pull up condensates, a commodity worth more than oil and is used to dilute bitumen for pipeline transport.
This is the second earthquake swarm to hit the region.
More from The Tyee:
"When we hit a magnitude of 3.8 this month, I'd thought for sure that the industry would stop and take a smoke break to figure out what's going on," said 57-year-old Barb Ryan, a Fox Creek resident who has been keeping an eye on resource development. "But they didn't. Many are in denial here."

Ryan has pressed for more transparent monitoring over the fracking industry's growing impacts on water, air and public health, but said she has faced resistance from local authorities. (She also graphed the Fox Creek swarms using coordinates from Natural Resources Canada.)

The earthquakes have mostly taken place in the province's first "play based regulation pilot," a geographical area where the regulator has given blanket approval to the development of the formation as opposed to approving one well at a time. The Alberta Energy Regulator says the strategy "results in regulatory efficiencies," but critics call it a new form of deregulation.

Ryan said that most people in Fox Creek know little to nothing about the first or second earthquake swarm, because there has been no public reporting on the events.
Though a contentious issue in the science community, fracking probably does induce earthquakes, but it's important to note that not every injection well is related to fracking. By pumping large quantities of water into regions rich in natural gas, the excess volumes of water allows rocks that would ordinarily be locked together to slip and glide past each other, causing large-scale movement and subsequent earthquakes.
As an aside, British Columbia requires operators to stop if they trigger an earthquake above 4.0 magnitude. Alberta has no such policy.
Read more at CBC and The Tyee.
Top image: Town of Fox Creek/CC