Canon's "G" line of cameras have always appealed to point-and-shooters looking for more of a pro experience. The new G15 has some great details—is it a $499 camera worth considering?
What Is It?
A hefty $499 point-and-shoot camera with plenty of controls and a really fast lens.
Who's It For?
Shooters who want physical manual controls, but a cheaper price tag than mirrorless cameras with interchangeable lenses.
G/O Media may get a commission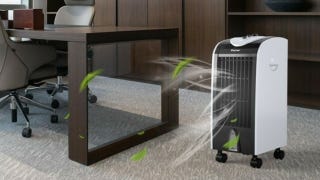 Save $10
Evaporative Portable Air Conditioner Cooler with Filter Knob
Design
Kudos on this one, Canon. Where looks are concerned, the G15 goes the distance. Everything is well-proportioned and well-placed, with an understated, sleek, yet classic look to it. It is small-ish and more compact than the camera it replaces, the G12. But it's still not too comfortable in a pants pocket.

Using It
It's like any other Canon point-and-shoot. Good, user-friendly controls, and no real surprises when operating the G15. It contains a familiar 12.1 MP CMOS sensor and DIGIC 5 processor, with a 5x optical zoom lens that works out to the full-frame equivalent of 28-140mm. It has a tucked-away flash, and a hot-shoe if you need to mount a better one up top. The real story is the lens, which rocks a freaking crazy awesome f/1.8-2.8 aperture.
The images you will produce are quite nice. For a compact, it packs decent sharpness and solid high ISO performance, with an ISO range topping out at 12800. But you will find better quality in larger-sensor cameras like Canon's higher-priced $799 G1X.
The Best Part
That ultra-fast f/1.8-2.8 aperture makes for low-light goodness and a shallow depth of field. Even the terrific Sony RX100 can't match that at the long end.
Tragic Flaw
The real limitation here is sensor size. 1/1.7 inches just cannot compete with the likes of the Sony RX100, or Canon's higher-end G1X, which has a 1.5-inch sensor. Sure, these cameras are more expensive than the G15, but it still seems like the G15's wonderful lens—which is superior to both the RX100 and the G1X—is going to waste on a small sensor.
This Is Weird
The rough matte finish is nice but chalky, almost like sandpaper. It will get dirty fast.


Test Notes
Canon said goodbye to the articulating display of the G12. This is a controversial decision that some will sneer at, but we think that unless you shoot a lot of video, the trade-off in bulkiness is worth it.
The optical viewfinder does not need to be there. It zooms with the lens, but at the long end of the zoom range, it is way off from the picture you are taking. Can't focus with it, can't do anything with it.
Video quality is good, with decent auto-focus, but you can only record at 24 fps in full 1080p. In 720p, you can record at 30 fps.
There is a lens ring that looks like it would be great for manual focus or aperture adjustment, but actually its only purpose is to house a mount for a telephoto conversion accessory. Total bummer.
You can record video in any mode, but there is a dedicated video setting on the mode dial. Weirdly, it doesn't seem to be any different than other modes except for access to one video-related setting in the function menu. You can record video in any mode.
The display is large and beautiful, but it would be great if it were a touch-screen. Canon knows how to do it right, as seen on the T4i, so why not include it on the G15?
Battery life is rated at 350 shots (the G12 was 390).
Our full size images can be seen here.
Should You Buy It?
As long as you are OK knowing that the the image quality is stuck a notch below larger-sensor cameras, most of the G15's other attributes are a pleasure. It costs $50 more than the Panasonic LX-7, which we liked a lot. Then, for $100 more, you can get the great Fuji X10, with a 2/3-inch sensor and better image quality.
At $499, the G15 is in the middle of a nice pack—and it's a truly satisfying camera to hold and use—but nothing pushes it above and beyond the competition. We hope that sweet lens makes its way to Canon's follow up to the Canon's G1X—then, a better sensor would do it justice.

Canon Powershot G15
• Sensor: 12.1 MP CMOS
• Lens: 28-104mm f/1.8-2/8 (35mm equivalent)
• ISO Range: 80-12800
• Display: 3" with 922,000 dots (non-articulating)
• Video Recording: 24 fps @ 1080p, 30 fps @ 720p
• Price: $499
• Gizrank: 3.5