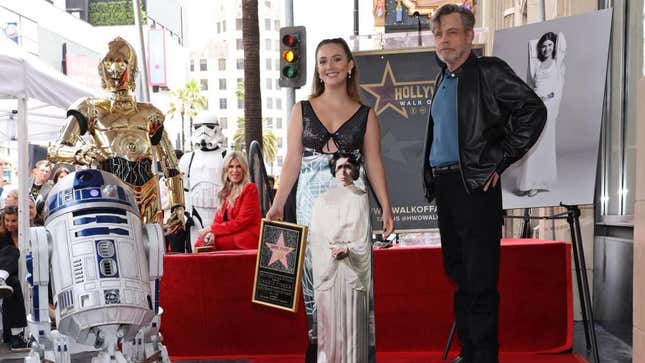 Star Wars Day, May 4, always brings with it lots of fun activities. This year, though, the Star Wars galaxy centered on Hollywood Boulevard in Los Angeles, CA—where Princess Leia herself, Carrie Fisher, was finally given a star on the iconic Walk of Fame.
Fisher sadly passed away in 2016, so the posthumous honors were handled mostly by Fisher's daughter Billie Lourd, who joined her mom in the Star Wars universe in recent years, as well as Mark Hamill, who played Princess Leia's brother Luke Skywalker in the saga. The pair got to share one last scene together in 2016's Star Wars: The Last Jedi.
Lourd (who wore a Princess Leia dress) and Hamill were joined by Lourd's father Bryan Lourd as well as Lucasfilm president Kathleen Kennedy, Force Awakens and Rise of Skywalker director J.J. Abrams, and others. Droids C-3PO and R2-D2 were also there. Hamill's speech focused on Fisher's upbeat personality, with sentiments such as "She wouldn't want us to be sad. She'd want us to have fun." Lourd was a bit more emotional and sprinkled glitter on the star, in honor of Fisher's love of glitter.
Fans who want to visit the star can find it on the south side of Hollywood Blvd., between Orange and Highland, in front of the Jimmy Kimmel Live theater. In this slideshow, you can see more images from the event.