When it comes to motor vehicles, history is filled with curious also-rans. If the inventors of these contraptions had had their ways, our streets might be filled with single-wheeled cars, gas-fueled chariots, and armor-plated snowmobiles.
Motorized roller skates, built by a Parisian man named M. Constantini in 1905
(via Scientific American, April 14, 1906 / Internet Archive)
The Dynasphere, patented in 1930 by John Archibald Purves, a British engineer inspired by a sketch by Leonardo da Vinci.
(via Wikimedia Commons)
A monowheel invented by M. Goventosa de Udine in 1931. It could reach the speed of 90mph (145 mph).
G/O Media may get a commission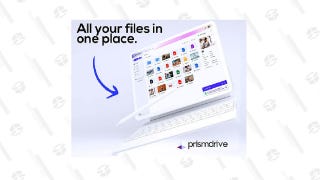 Save 97%
Prism Drive Secure Cloud Storage: Lifetime Subscription
(via National Archief)
Motorcycle chariots from the 1930s
(via Popular Mechanics, December 1938 and VisualNews)
Cyclomer, an amphibious bike, built in Paris, France, 1932
(via National Archief)
The NKL-26, a Soviet-made WWII vehicle built from plywood, had a 10 mm thick armor plate on the front and a 7.62 mm machine gun.
(via Wikimedia Commons and Acemodel)
The VZ-9 Avrocar, a flying saucer-shaped VTOL aircraft developed by the Canadian Avro Aircraft for the U.S. Army in 1958. Only two were built, but the project was cancelled three years later, because they've had some serious stability problems.
(via Bzuk 1 - 2 - 3 and Alvintrusty)
A Pininfarina X Sedan, built in 1960
(via Barrett-Jackson)
These bizarre (Italian?) vehicles from the Sixties
(via Pinterest)
L' Automodule, created by Jean Pierre Ponthieu as a promotional vehicle in 1970
(via Jalopnik)
Neverwas Haul, 2006
This 24 feet long by 24 feet high and 12 feet wide steampunk mansion on wheels was built by built by members of the Academy of Unnatural Sciences in 2006 for Burning Man Festival. Made from 75% recycled materials. More steampunk homes and businesses can be seen here.