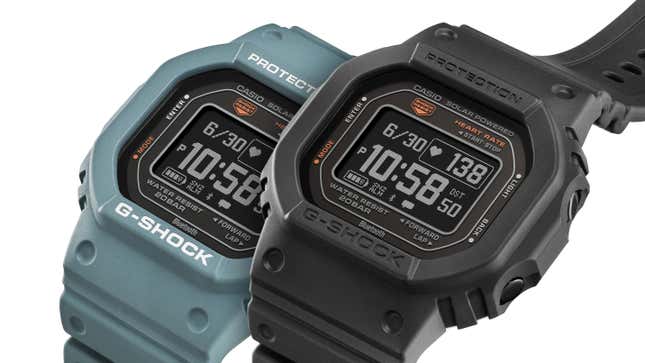 This month is the 40th anniversary of the original G-Shock digital watch, and to help mark the occasion, Casio is releasing a bunch of variants based on the original design, including a model that packs it full of modern fitness-tracking technology and an optical heart rate monitor.

Twitter Is Shifting Right | Future Tech
Originally developed by one of Casio's engineers as an attempt to design an ultra durable watch that could survive a fall from 32 feet, the first G-Shock model, the DW-5000C, was released in Japan in 1983, and thanks to multiple layers of shock-absorbing rubber, steel, and foam inside protecting its electronics, it could survive a beating, a dunking, and only needed a new battery every 10 years. It also featured a design that's become an icon of durable digital timekeeping.
Among the DW-5000C homages enroute from Casio this year is the GW5000U-1, which looks very similar to the original. It's got a basic segmented LCD display, but it also has a handful of upgraded features including improved waterproofing, a rechargeable battery powered by solar panels integrated into the face, and an antenna for picking up broadcasts allowing the watch to accurately set the time all by itself. Functionally, the G-Shock GW5000U-1 is a far cry from the smartwatches available today, but the new G-Shock DWH5600 comes a lot closer.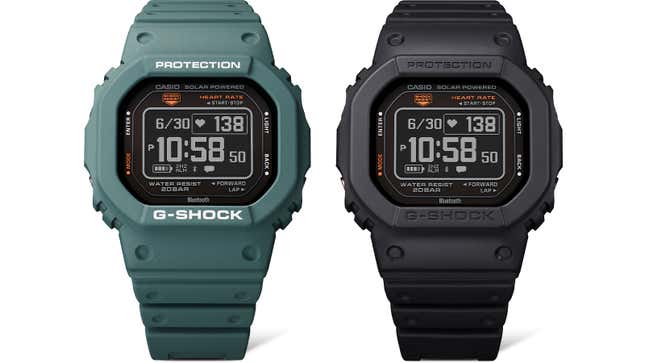 Available in two colorways, the new Casio G-Shock DWH5600 features the same recognizable square-shaped face as previous entries in the line, and while it's slightly larger than the DW-5000C, it takes advantage of its size to add an optical heart rate monitor, an accelerometer for tracking steps and other physical activities, and a Bluetooth connection to a smartphone so it can display notifications and leverage the phone's GPS for more accurate fitness tracking.
The new DWH5600 also includes solar charging, but sunlight alone isn't enough to keep the watch fully charged when regularly using its more advanced features, so a wired charger is also included. On a full charge, which takes around three hours, the watch will run for about a week when using the added fitness features for an hour a day. With them left on all the time, it will be dead in about 35 hours. There's also a watch-only mode that boosts battery life to about a month, but switching that on seems to negate the whole reason to opt for this upgraded model.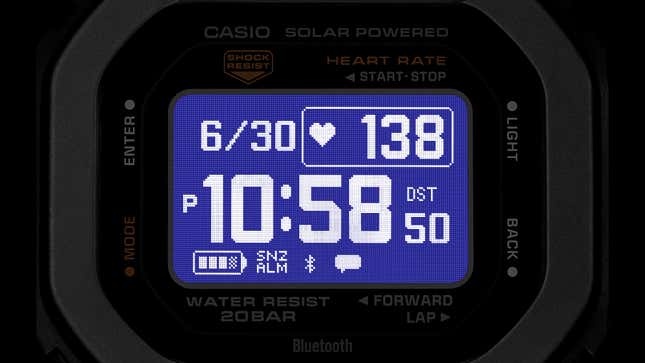 The fitness tracking isn't as robust as what you'll find on the larger G-Shock models available today, but it can keep tabs on walks, runs, and even workouts at the gym, and thanks to a partnership with Polar, the collected health data can also be leveraged to calculate the user's cardio load, blood oxygen levels, and even sleep quality. All of that data is also presented on a new fully pixelated screen with an improved backlight, which is the most obvious upgrade on the DWH5600, and a welcome improvement over the retro-looking segmented LCD displays this line has been using for decades.

Other features of the DWH5600 include the standard functionality you'll find in most digital watches today, including 200 meter water resistance, world time adjustments with sunrise and sunset times, a 100 hour stopwatch, a countdown timer that maxes out at 60 minutes, four daily alarms with snooze, and silent vibrating alerts. Both colorways of the G-Shock DWH5600 are available for pre-order through Casio's website for $299, with full availability starting on May 19.