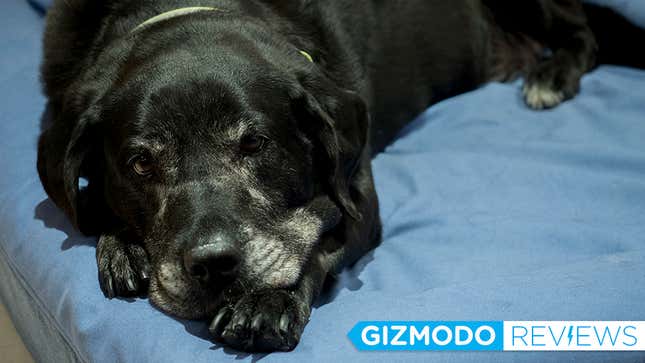 I adore my 10-year-old pup. A lot. To the point where my mother dodges my calls on vet days so she doesn't have to hear a breathless blow-by-blow of his every aspirated fatball. But my fixation is, admittedly, less about the dog, and more about the countless pet "gadgets" I'm offered on a daily basis. I, without fail, say "yes please send me your camera that sits on the dog's collar and takes pictures when the dog barks!" I do not know when I will need these devices, but I want to test them.

Rob Savage on Collaborating with YellowJackets' Sophie Thatcher
Which leads me to my dog's new dog bed. When Casper reached out and offered a new "mattress" specifically engineered for dogs, I naturally said yes. Casper currently ships people mattresses in boxes as big as a golf club bag. But that charming bonus isn't as big a deal with dog beds. Dog beds tend to be thinner than human ones, after all, so it's easier to cram them in a box and ship them across the country.
My dog's last bed was also a mail-order number. I religiously purchase him a new bed from L.L. Bean every three years, tossing the old bed, which gets lumpy and flat over time, and holding onto the durable canvas cover with his name inscribed on it.I'm very happy with his L.L. Bean beds and he is too.

But man, so far he's even more delighted by Casper's much, much plusher number. In the summer, my warm-blooded little friend eschews all cushions so he can lie on the tile in front of the fan and moan until fall arrives. But he spent three to four hours on the Casper bed last night, head perched on the raised side, paws pillowed underneath. This could be a case of him just liking new things, or it could be evidence that he sleeps cooler on the Casper than on his previous bed. Or the couch. Or my bed.

He's not the only one fond of the bed: the cat took to the enormous slab of foam like it had been built just for his rotund little body. While he and the dog only ever snuggled on the old bed during the chilliest winter months, they immediately sorted out their own spaces on the Casper. Much of that is due to the shape of the bed. It has a large plush lip that wraps all the way around. It's perfect as a pillow, but it also seems to give both den-prone animals that sense of safety usually limited to crates and cardboard boxes.

Casper's press release declares this bed, which only comes in three sizes, to be the best dog bed ever made, and say it was developed after 11 months of intensive doggy research. As I am not a dog I can't agree with Casper's claim. Just like I can't speak to the durability of the bed. The fabric feels tough, but so did the first bed cover the dog ate in 2007, and those sandals in 2008. And that "indestructible" toy demolished in under five minutes in 2010.
If you are the owner of a chewer, best save your $225 (for the Large) for another day. But for most dog owners, this could be a fantastic choice. It lacks the customization options of something like the similarly priced L.L. Bean memory foam dog beds, which are available in a variety of sizes and colors. But the Casper Dog Mattress was so quickly beloved by my four footed housemates that I think we'll do just fine with it.
README
It's a bed for dogs
And cats too
Raised sides make it more comfortable for animals that like enclosed spaces
Foam mattress appears to be comfortable
Ships in a tiny box, just like Casper mattresses for humans
It comes in three sizes. Small for $125, Medium for $150, and Large for $225