Remember a couple days ago when we broke the story about the fancy pants Logitech Harmony 1000 do-it-all remote. Well I got a chance to sit down with a Logitech rep for a bit of a hands-on experience, and I must say, it is the cat's pajamas and more.
Deadly Mississippi Tornado Kills More Than 2 Dozen | Extreme Earth
Jump to get the full rundown, including the price.

Form-factor wise, this is the best non-traditional remote I have held. Non-traditional remote meaning the remotes that are more squared off and not traditoinally penis-shaped. Unlike some of the other block-style remote, this one is actually a comfortable fit in the hands. It is light-weight, and thin.
G/O Media may get a commission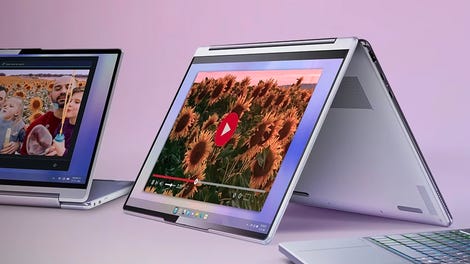 up to 70% off
Lenovo Spring Clearance
The remote has a bright and beautiful 3.5-inch touchscreen. The screen is very responsive, and it doesn't require any kind of calibration. Every touch is dead on every time. The interface is friendly and easy-to-navigate.
One thing people need to understand is how the setup of these Harmony remotes work. It is easier than traditional universal remote that you have to find out your existing components remote code, and do some fancy button pushing to get it to work. The remote programming of Harmony remotes is all done with the magic of the Internet. Yes kid, the Internet. The remotes can connect to a PC via a USB cable. Then you install the software and "log in" to the remote, similar to how to you log into routers. Then simply input your components. Model and manufacturer. Walaa, it is all set up like magic.
Personally I have a Hyundai LCD TV and for months I was never able to find a remote code for this TV, some places even said that Hyundai TVs didn't have universal remote codes, but my Harmony remote was capable of finding it and programming it into my Harmony.
Okay, back to the Harmony 1000. Most of the navigation/controlling is done on the touchscreen, but if you are old school and still prefer to channel surf, then the buttons on the right side can help you out there.
The Harmony uses ZWave infrared for controls. Meaning if you have other ZWave compatible products like automatic blinds, or light adapters, this remote can control those also. Basically allowing you to sit on your fat ass and control everything about your life with this small remote.
The Harmony 1000 will be available later this year for $500. That price is still a kick in the balls. Something just feels fishy about spending half of what my LCD HDTV cost on the remote control itself.