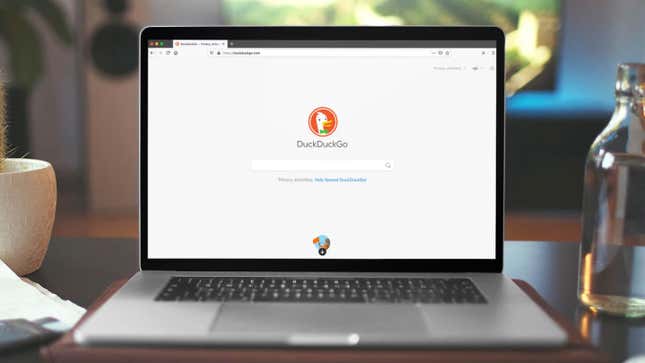 DuckDuckGo launched a beta version of an AI search tool powered by ChatGPT Wednesday called DuckAssist. The addition to the company's privacy-focused search engine uses ChatGPT and Anthropic's language parsing capability to generate answers scraped from Wikipedia and related sources like the Encyclopedia Britannica. The tool is free and available on the DuckDuckGo web browsing apps for phones and computers as well as the company's browser extension starting today.
David Byrne on New Tech and AI | Gizmodo Interview
"DuckAssist is a new type of Instant Answer in our search results, just like News, Maps, Weather, and many others we already have," said Gabriel Weinberg, CEO of DuckDuckGo, in a blog post. "We designed DuckAssist to be fully integrated into DuckDuckGo Private Search, mirroring the look and feel of our traditional search results, so while the AI-generated content is new, we hope using DuckAssist feels second nature."
Unlike Microsoft's bungled AI projects with Bing (RIP Sydney), DuckAssist isn't a chatbot. Instead, DuckAssist will suggest an automatic answer when it recognizes a search term it can answer. It's not being forced on anyone. When an AI-powered response is available, you'll see a magic wand icon with an "ask me" button in your search results. The company says DuckAssist is still in beta, so it may not pop up that often yet.
"For this initial trial, DuckAssist is most likely to appear in our search results when users search for questions that have straightforward answers in Wikipedia. Think questions like 'what is a search engine index?' rather than more subjective questions like 'what is the best search engine?'" Weinberg said.
The company says limiting the data source to Wikipedia will help stave off some of the bizarre misbehavior users have seen on other AI tools. For example, Microsoft had to limit the features of its new Bing Chat, which is also powered by ChatGPT, just over a week after its release. After reports showed Bing gave away its secret internal code name, used racial slurs, and gave out a long list of generally unhinged responses, Microsoft lobotomized the Bing AI and clawed back its functionality.
Privacy is the focus of DuckDuckGo's products, and the company says DuckAssist won't collect personal information, nor does it require a login, just like the company's other tools. DuckDuckGo says it's keeping users' search, and browsing history anonymous in all data shared with OpenAI, the makers of ChatGPT, and Anthropic, the company's partners on this project.
DuckDuckGo says DuckAssist is just one of several AI-enabled tools it has in the works. If the beta test goes well, the company plans to roll out the tool to everyone using the search tool on DuckDuckGo website as well.
There will be an anonymous feedback link next to all the AI generated answers you can use to share thoughts with DuckDuckGo.