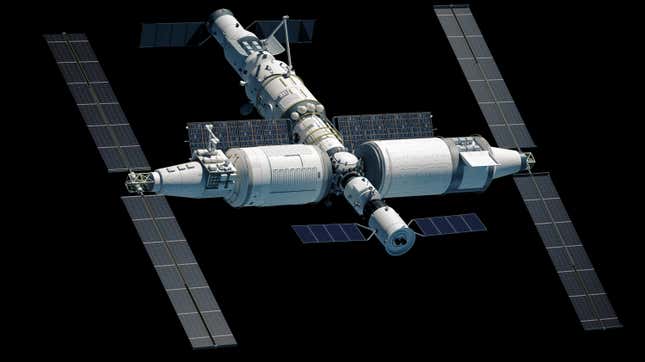 Construction of the Tiangong Space Station was only completed late last year, but China already has big plans to expand on its low Earth orbit project.
During an exhibition at the National Museum of China, the China Manned Space Engineering Office (CMSEO) revealed plans to launch a new module to add to the Tiangong Space Station, Chinese state media reported on Tuesday. The expansion module will attach to the three modules already in low Earth orbit, turning the T-shaped space station into a cross.
The plan is for the multi-functional module to have six docking ports, allowing more spacecraft to dock with the space station. China had previously announced that it would allow space tourists to travel to Tiangong, so the extra ports will come in handy.
In October, China launched the third module of Tiangong, completing the T-shaped structure of its three-module space station in low Earth orbit. The first module of the space station, Tianhe, launched to orbit in April 2021, while Wentian followed more than a year later in July 2022. As it stands now, Tiangong is about a quarter of the size of the International Space Station.
CMSEO officials also revealed plans to begin hosting international astronauts on Tiangong, according to SpaceNews. "We are about to start selecting international astronauts to send to our space station and carry out scientific experiments together," Chen Shanguang, a deputy chief designer of China's human spaceflight program, is quoted as telling reporters in China.
Seeing as how Tiangong is China's answer to the ISS, launching astronauts from different countries to the space station is part of the plan to establish it as an international hub in low Earth orbit. The European Space Agency had planned to send some of its astronauts to Tiangong, but later announced that it didn't have the budget or the political green light to do so.
In November 2022, China launched three of its astronauts to Tiangong as part of the Shenzhou-15 crew. The three-person crew performed the first handover on board the space station, taking over duties from the Shenzhou-14 crew who had arrived at the space station in June.
Shenzhou-15 is set to spend about six months on board the space station, preparing it for operations. It's not clear when China plans on sending its expansion module to Tiangong, but the country's national space program has made a lot of headway in its plans to establish the space station's presence in low Earth orbit.

More: NASA Lacks Plan for Ditching Space Station in an Emergency