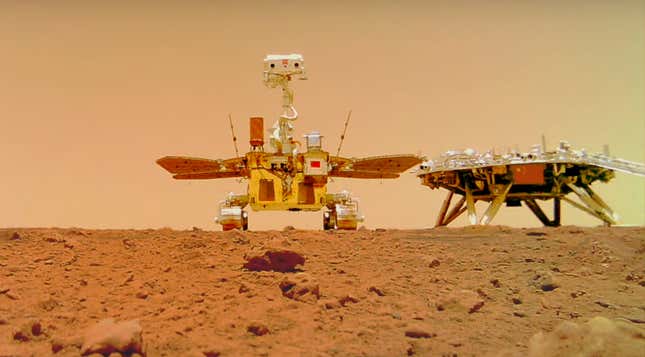 About a year ago, China's Zhurong rover hunkered down on the Martian surface to avoid the harsh winter season on the dusty planet. Regrettably, Zhurong has so far failed to revive itself from hibernation mode. A mission designer recently revealed that an accumulation of dust on the rover's solar panels may be the reason for its unresponsive state.
Astronomers Could Soon Get Warnings When SpaceX Satellites Threaten Their View
"We have not had any communication from the rover since it entered hibernation," Zhang Rongqiao, chief designer of China's Mars exploration program, told China's state-owned CCTV, as reported by Reuters. "We are monitoring it every day and believe it has not woken up because the sunlight has not yet reached the minimum level for power generation."
Zhurong went into hibernation mode in May 2022 and was scheduled to wake up in late December. In February, NASA's Mars Reconnaissance Orbiter captured images of the rover over time, revealing that the Martian robot had not moved from its same spot since it went into its low power safe mode. The Chinese space agency, however, had not shared any updates on the rover until the recent interview with Rongqiao.
The winter season on Mars also includes sand and dust storms, which block the rover's solar panels and prevent it from collecting sunlight to generate power. That's why Zhurong went into hibernation, but the Martian dust may have still managed to block the rover's solar panels and prevent it from exiting its safe mode. The two other rovers currently roaming Mars, NASA's Curiosity and Perseverance, are able to power through Mars's winter season using a radioisotope power system.
Zhurong landed on Mars on May 14, 2021 as China's first Martian mission. The rover was sent to Mars with the Tianwen-1 orbiter, which relays data between the rover and ground controllers on Earth. The rover was originally set to spend just 90 days exploring the Martian terrain but has far surpassed its initial timeline.

It's not yet clear whether Zhurong will be able to generate enough power to wake up from its hibernation or if the rover is doomed to its unresponsive low-power state.
For more spaceflight in your life, follow us on Twitter and bookmark Gizmodo's dedicated Spaceflight page.