Remember Chris Hadfield's goosebump-inducing cover of "Space Oddity?" Well, after the Canadian astronaut's one-year agreement with David Bowie expired this past May, the video — which had amassed 23,489,187 hits — was taken down from YouTube. Now, some five months later, it's back. Here's what happened.
"When David Bowie wrote and recorded 'Space Oddity' in 1969, I wonder if he ever imagined it being played in orbit?" Hadfield noted recently on his blog. "Even more so, would he have imagined (or worried about) the legal concerns of extra-planetary music?"
Indeed, the recording, which was made aboard the ISS at an elevation of 250 miles (400 km), became the subject of some interesting copyright considerations. People starting wondering if copyright still applied in space, and if so, under which jurisdiction. Complicating matters even further was the fact that the Space Station was built by 15 countries. Did a particular Space Agency own the recording?
These complexities occurred to Hadfield while in space, so he contacted Bowie's publisher and legal team to reach some sort of agreement. Hadfield writes:
They had subsequently worked happily and professionally with me and the Canadian Space Agency. The release of the video was all agreed-to when it was originally posted on May 2013. Bowie himself loved it, posting on Facebook that it was "possibly the most poignant version of the song ever created."
G/O Media may get a commission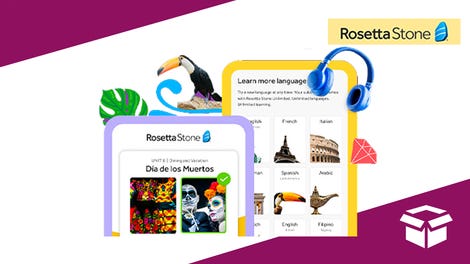 Extra 20% off
Rosetta Stone Lifetime Subscription - All Languages
They forged a one-year agreement. Thus, the video, with some regret, had to be taken off YouTube this past May, which is kind of crazy when you consider it had 23.4 million hits.
This sequence wasn't anyone's fault. The day we took the video down we started to work again to get permission to get it re-posted. But the legal process is careful and exacting, and thus takes time. Despite countless on-line expressions of frustration and desire, it wasn't anyone's ill-will or jealousy that kept this version of Oddity off YouTube. It was merely the natural consequence of due process.
Thankfully, the two parties were able to reach a new two-year agreement.
And now, we are so happy to be able to announce that my on-orbit cover of Space Oddity is back up on YouTube. This time we have a new 2-year agreement, and it is there, for free, for everyone. We're proud to have helped bring Bowie's genius from 1969 into space itself in 2013, and now ever-forward. Special thanks to Onward Music Ltd, to the Canadian Space Agency and NASA, to musicians Emm Gryner and Joe Corcoran, to videographer Andrew Tidby, to my son Evan, and mostly to Mr. David Bowie himself. For the countless others who have helped work to bring about a new era of exploration, the art of it sings to us all.
[ Chris Hadfield | Economist ]