If you talk about knives on the Internet then you'll know the Chris Reeve Sebenza is held up as the pinnacle of production knife perfection. But what's it like to use and carry one in the real world? I let this one bite me to find out.
Full Disclosure: KnifeArt.com provided this Sebenza for review.
What Is It?
The ultimate folding knife? Since 1987, Chris Reeve has been building his vision of perfection. The Sebenza was the first production knife to adopt the strong, simple frame lock and is built to obscenely tight tolerances that are said to, in some cases, exceed those of the aerospace industry.
This Sebenza 25 improves on the original with a new "large hollow" grind for its S35VN steel blade and uses slabs of 6Al4V titanium for its handles. A massive amount of effort goes into ensuring those handles are precisely straight and mounted precisely parallel (something titanium is not known for) with the blade precisely centered between them.
G/O Media may get a commission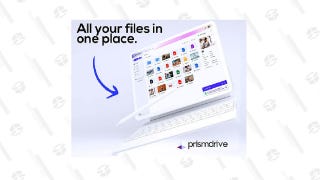 Save 97%
Prism Drive Secure Cloud Storage: Lifetime Subscription
That blade pivots on a phosphor bronze washer with a level of smoothness that has to be felt to be believed.
This is a large-bladed Sebenza with a 3.6-inch, drop-point blade. Folding up to 4.75 inches, it's about as big a knife as you'll want to carry in your pocket. The smaller, $350 Sebenza 21 employs a 3-inch blade that folds to just 4 inches in length.
You see phrases like "bank vault," "rock solid," "benchmark," "meticulous," and "modern classic," used to describe the Sebenza and reviews of them on forums and in knife magazines tend to read more like love letters than they do objective criticism. In fact, you'll see even see competing knives occasionally granted the reluctant praise of "Sebenza smooth;" that's the nicest thing you can say.
Who's It For?
If you're purchasing a $450 pocket knife, you've already gone way, way down the knife nerd rabbit hole and developed an obsession with engineering, strength and tactile quality that exceeds all reason.
The Sebenza is incredibly strong, ergonomically friendly and cuts stuff as well as anything. But, you can say the same about knives starting as low as $14, if you're talking about a fixed blade.
What you're buying here is the tactile feeling of perfection and you're doing that because you find joy in holding and using the finest possible tools, because you like the idea of one slightly mad perfectionist making knives in a small workshop, because you want to reward yourself for your hard work, and because you want the bragging rights of owning not an imitator, but the benchmark.
If you spend your evenings drinking small batch bourbon while talking to like minded people on Blade Forums, then you're the kind of person that probably already owns one, if not several of these knives.
Design
The Sebenza isn't so much designed as it is engineered. Let's start with the blade, which features a grind that's halfway between hollow and flat, rising to a perfectly beveled back that switches to a chamfer where the jimping starts. There's ambidextrous thumb studs for opening, but Reeve prefers to make separate left and right hand versions of his knives.
The CPM S35VN steel is a little tougher than the already very nice, but more commonly found S30V and should hold its edge longer. Reeve treats it to a relatively soft 58-59 Rockwell hardness value so that it is feasible to maintain yourself.
That pivots on a mechanism with internal gaps designed to hold grease and sweep dirt off the blade as you open it. A bronze washer on the lock side improves the slickness of that pivot and the titanium frame material pairs well with the integral lock as it has won't fatigue or lose its shape memory over many decades of use. The lock and bade interface with minute perfection, with the lock covering approximately 90 percent of the blade's width.
The perimeter of the frame slabs is double beveled, making them very comfortable in your hand, while two finger cutouts at the front provide a totally secure grip. The slabs are bolted together by two through bolts, in addition to the pivot. The frame is slightly pointed on both ends, for use as a non-lethal impact weapon; in a closed fist the closed knife protrudes about a 1/4 inch on both ends.
Reeve wraps one frame bolt with a small lanyard adjacent to the pocket clip, which is made from the same material as the handle.
Using It
Operating the knife evokes a feeling of strength and smooth perfection every time you open it. The blade meets no resistance in its movement, but neither does it fall open loosely. No other lock you've ever used conveys so much authority every time it engages, but it does take two hands to move the lock out of the way and close the knife.
In your hand, the beveled slabs are both comfortable and secure, allowing you to bear down with much pressure in total confidence. Your hands will not slip on this knife, even if they're wet or it's cold out.
But you won't need to bear down much. Not only does the Sebenza arrive sharper than any knife I've before experienced — just touch it to your skin with no pressure and it will draw blood — but that large hollow grind really does work incredible well. The blade is a relatively thick .140 inches, but slices with a level of precision rivaling that of a filet knife. So, it works just as well preparing dinner in your kitchen as it does ripping through cardboard or trimming green branches off a tree. You will not find an easier blade to cut with than this one.
It's worth calling out the thumb ramp and jimping, which manage to capture your thumb totally in use, yet don't protrude or catch your pocket when closed.
Like
The knive arrives mounted in foam alongside a chamois cloth, tubes of both grease and Loctite and the three hex keys you'll need to disassemble and service it. Nice touches, all.
The only logo is small and subtle. Anyone who cares will instantly recognize the knife for what it is, but the uninitiated won't be aware you're carrying anything outside the norm.
The blue thumb studs are a nicely subtle bit of flair.
The sharpest knife I've ever experienced. And that's as it comes new, not after it's been to a professional sharpener.
The blade is large, thick and strong, yet slices as delicately as anything.
The frame lock provides an unerring sense of strength.
The pivot is so smooth it defies description.
No Like
It doesn't bother me, but collectors may be bothered by the easily-marred bead blasted finish. Carry the knife alongside your keys and it'll be scratched up in minutes.
The lanyard serves no discernible purpose, but makes pocket carry awkward.
The clip attaches the knife to your pants with security, but leaves half an inch of the handle protruding. People will easily see that you're carrying a knife.
Should You Buy It?
No one needs this knife. But, if insanely tight tolerances get you off, you'll cream your pants every time you handle this thing. And man, does it work well at cutting stuff.
Having said that, as someone who carries a knife everywhere I go, I find the experience of carrying a blade to be as essential to overall utility as I do the knife's performance once its open and being used to cut. And the Sebenza just doesn't carry all that well. It's not just the low clip, it's also the four protruding bolts that hold the thing together and those big thumb studs on both sides of the blade. It just doesn't ride seamlessly in your pocket.
So, while I've been trying to make a point of carrying the Sebenza around for testing, it's my DPx Aculus that I keep going back to. That knife employs a similar frame lock to the Sebenza and its Niolox blade pivots as smoothly, but the milled-from-one-piece titanium handle is utterly free of protrusions, so it slides into and out of your pocket much more smoothly. Its deep carry clip conceals the entire body of the knife under the lip of your pocket and its thumb hole won't catch anything. I hate to say it, but Pelton has simply produced a more elegant, more easily carried package that's just as good at being a knife, too.
And, like other DPx folders, the Aculus has one feature I've quickly found to be essential. In either an urban environment or around vehicles, its carbide glass breaker adds a surprisingly level of confidence that I'll be able to easily smash safety glass either to escape or rescue someone. Use it for that purpose once and you'll never go back to a knife that doesn't have one. This is the fancy folder that rides in my pocket every day as a result.

IndefinitelyWild is a new publication about adventure travel in the outdoors, the vehicles and gear that get us there and the people we meet along the way. Follow us on Facebook, Twitter and Instagram.