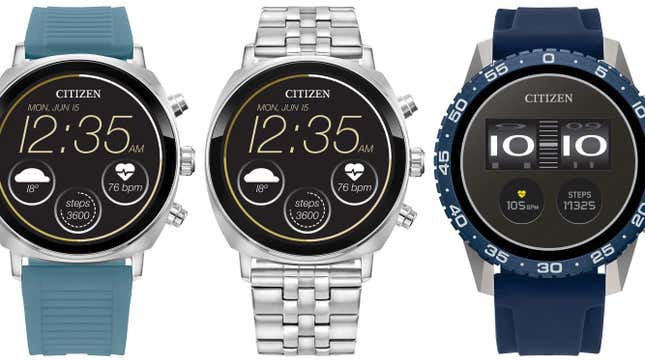 Watchmaker Citizen's latest attempt at making a traditional-looking but simultaneously tech-heavy smartwatch hasn't gone to plan. The company debuted its CZ Smartwatch at CES this year, proclaiming the device's health features would keep track of all your sleep and physical activity to provide users "alertness tests." However, the company suspended sales of the second-gen smartwatch after reviewers complained about buggy apps and a short battery life.
Hey Google, Where Did My Watch's Battery Life Go?
Wired first reported Thursday that the legacy watchmaker had decided to pause sales of the $350 CZ Smartwatch. In an email to Gizmodo, a company spokesperson said "We have identified a technical software issue that is affecting the Gen-2 CZ Smart touchscreen models… and are working with our quality control team to resolve it." The issue is only impacting the CZ Smart Touchscreen watches, and not others like the Smart Hybrid.
The current products that are being suspended include:
MX1003-71
MX1000-28X
MX1000-01X
MX1000-52X
MX1005-83X
MX1002-57X
MX1018-06X
MX1017-50X
MX1010-59X
MX1011-05X
MX1016-28X
The watch has been on the market since May, though there haven't been many professional reviews of it. However, many of the reviews on Amazon have cited a poor battery life compared to other devices at the same price, along with a buggy interface that left the screen frozen.
When the watch originally debuted, Citizen promised users would get more than 24 hours of battery life. Reviews on the company's own product page mention the device might not even get half a day of battery life before needing a charge. In response to customers, the company has said reviewers may need to change device settings in order to extend use-time.
Some users have also complained that the CZ Smartwatch lacks much of water resistance like many of its competitors. The watch is rated IPX6, meaning its only resistant to "minor" interaction with water, like sweat or rain. This is a similar issue with the Gen 1 version of Citizen's smartwatch, which pales in comparison to Samsung and Apple's most recent offerings. The last several iterations of Samsung's Galaxy Watch offer IPX8 water resistance that's good for swimming in shallow pools and for 30 minutes in about three feet of water. The $799 Apple Watch Ultra is made waterproof for depths over 40 meters, but even the regular Series 8 is rated for swimming.
The main killer for Citizen watch is that its touted "YouQ" health tracking feature—the one that Citizen advertised was based on the NASA Psychomotor Vigilance Task Test—is inaccurate and was prone to freezing. The feature was developed alongside IBM and NASA, and was supposed to offer users suggestions at different times of the day to recoup energy or relax if they got too worked up. It's essentially more of a wellness reminder rather than a Fitbit-level exercise tracker.
YouQ was a main selling point for the watch, so its glitches were a big detriment in reviewers' eyes. Other than YouQ, the watch uses Google's Wear OS 3. Other Wear OS 3 devices have also had issues with battery life, something which could be getting worked on with the upcoming Watch OS 4.