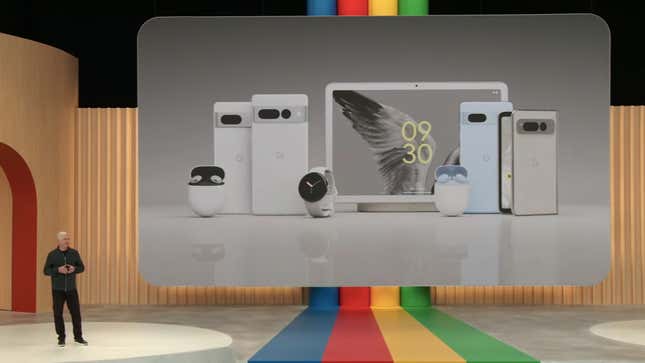 Today, Google executives took to the stage at the Shoreline Amphitheatre in Mountain View, California to talk about the company's latest advancements in artificial intelligence, Android, and Pixel hardware. If you didn't have it in you to sit through the two hour live-streamed event (we feel you), here's the most interested announcements and debuts Google made at I/O 2023.
How to Hide Your Sensitive Images in Google Photos
Everything, Everywhere, AI At Once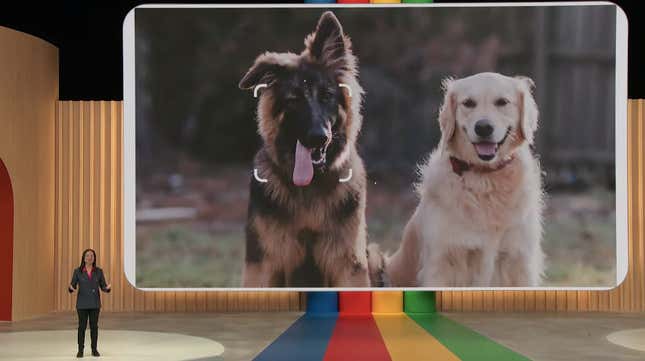 Today, Google wanted the world to know it's definitely not resting on its AI laurels, with over an hour of AI-related announcements that included everything from its latest large language model (called PaLM 2), to public availability for its Bard AI in more than 180 countries in English, Korean, and Japanese (as well as support for 40 additional languages coming soon), to improved AI functionality in many of its user-facing products like Gmail, Maps, and even Google Search. You can read all about Google's I/O 2023 AI announcements here.

The First Folding Pixel Phone and a New Tablet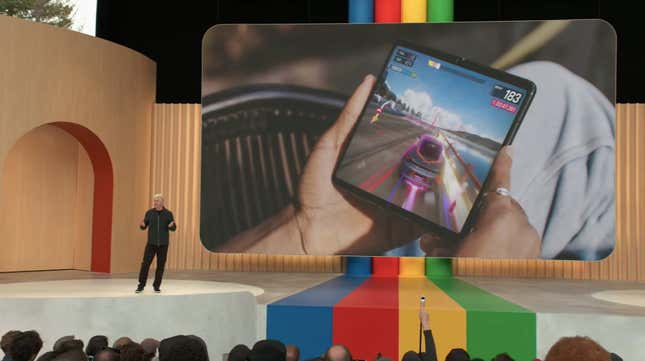 Although the company teased some of the new additions to its Pixel line over a year ago, today's Google event officially revealed all the details for its Pixel Tablet, which doubles as a home hub device when docked to a wireless charging base with a speaker. There was also the Pixel 7a smartphone, which looks it can outperform competing smartphones like the Samsung Galaxy A54. The Pixel Fold took up most of the demo, being the latest smartphone that cleverly transforms into a larger tablet-sized device thanks to the magic of flexible OLED screens. You can read all about Google's new Pixel devices revealed at I/O 2023 here.

Wear OS 4 Promises Better Battery Life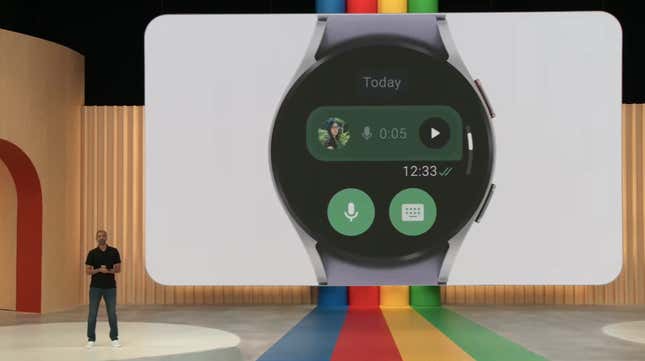 Although the rollout of Wear OS 3 has been a slow one over the past two years, Google clearly doesn't want its mobile OS for wearables to once again fall into disrepair and neglect. Today, Google revealed that Wear OS 4 would be available as a developer preview today, with a larger rollout coming to actual devices later this year.
Some of the most anticipated features of the next version of Wear OS include better battery life for wearables like the Pixel Watch that struggle to get through the day, as well as the ability to back up a configured Wear OS device to the cloud and then restore it to a reset, repaired, or even a replaced smartwatch without having to start the setup process from scratch again. Developers will have better tools for designing custom watch faces that don't contribute to Wear OS' battery life woes, while third-party apps like WhatsApp will soon be coming to Wear OS devices.
Google is also promising more of its own services will be coming to wearables through Wear OS 4, including the ability to respond to emails from Gmail from a watch, more robust calendar functionality, including RSVP'ing to invites without having to reach for a smartphone, and further integration with Google Home, allowing users to control their smarthome accessories like lights right from their wrists.
Google's Find My Device Platform Now Enlists the Help of Billions of Other Devices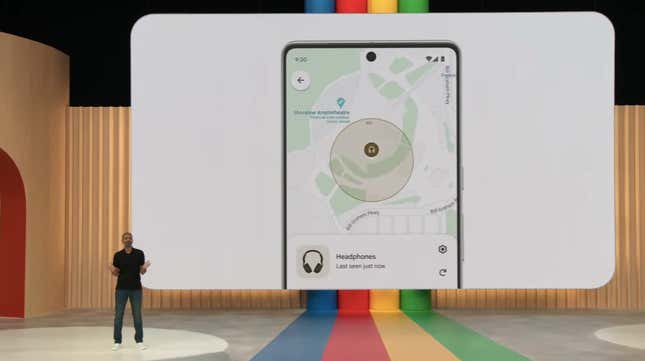 What set Apple's AirTags apart from the competition (and raised serious concerns about stalking and privacy) was that it took advantage of the millions of iPhones, iPads, and even MacBooks in use around the world to keep tabs on, and report the location of, the tiny coin-sized tags. Google's Find My Device platform previously only worked with devices that had their own location tracking abilities (GPS hardware) but at I/O 2023 today, the company revealed that the platform will work more like Apple's does later this Summer. It'll harness "over a billion Android devices across the world to help you locate your missing belongings like headphones, tracker tags, or even your phone via Bluetooth proximity."
In order to head off the same concerns raised over AirTags when they launched, last week Google announced it had partnered with Apple to put tools in place to minimize the risk of stalking using tracking networks and devices, including alerts through Android for unknown tracker devices nearby. Today, it also emphasized that privacy and security are a top priority for its upgraded Find My Device network, assuring users that "location data crowdsourced from the network is end-to-end encrypted" so that not even Google can access and use the data for other purposes.
What appears to set Google's Find My Device platform apart from Apple's is that it's not only limited to Google's own hardware. Bluetooth tracking devices from companies like Tile, Chipolo, and Pebblebee will work with it, and headphone models from Sony and JBL will soon be compatible as well. The upgrades could give Apple some stiff competition in this space, as Android devices far outnumber the hardware Apple has out in the wild, potentially leading to improved accuracy and a wider reach.

Project Starline Gets Smaller and Smarter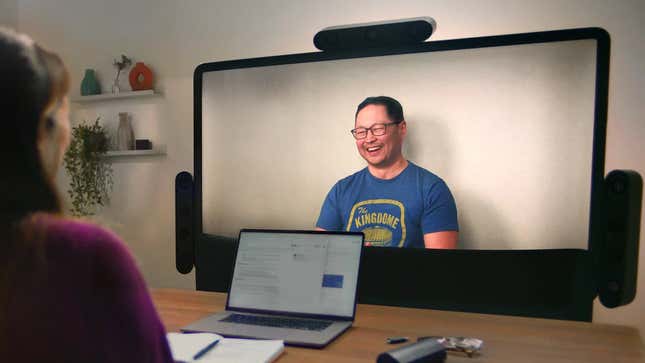 When Google first debuted its experimental Project Starline two years ago, it looked like the classic photo booths kids would crowd into at shopping malls. But instead of spitting out a strip of black and white photos, the Project Starline prototype booth let users video chat with another person who felt like were sitting right across from them, thanks to a clever use of depth cameras, hyper-realistic 3D models, and a light field display that created the illusion of depth.
In 2021, we didn't know if Project Starline would ever see the light of day, or if it was a technology that Google would eventually abandon. Apparently, it's not only alive and well, but the technology behind Project Starline has been streamlined so it has a smaller footprint that can be installed in conference rooms around the world. It still relies on a fairly large light field display, but new AI techniques have allowed depth sensors to be replaced with "a few standard cameras to produce higher quality, lifelike 3D images." The new design has also been tested by companies like T-Mobile, WeWork, and Salesforce, which means that in a few more years, there's the potential it could not only show up in offices, but eventually be turned into a product available to consumers.

Spotting Deepfakes and Making the Internet Safer
Although it's probably not going to change the mind of that one uncle who's convinced the moon landing was faked, today Google announced a new tool that can provide more information about an image's provenance, including when it first showed up in Google Search and where it's been published or referenced. The idea is to provide additional context that can help users determine if an image is genuine, if it's been digitally manipulated or AI-generated, or if it's a complete fake. Google also announced improvements to its Safe Browsing API to help identify dangerous sites sooner, and expanded availability for tools allowing Google users to search for their Gmail ID to see if it's being shared on the dark web. You can read all about Google's internet safety and security announcements made at I/O 2023 today right here.

---
Want more of Gizmodo's consumer electronics picks? Check out our guides to the best phones, best laptops, best cameras, best televisions, best printers, and best tablets. If you want to learn about the next big thing, see our guide to everything we know about the iPhone 15. Click here to save on the best deals of the day, courtesy of our friends at The Inventory.