So you have a YouTube video on your phone but you want to watch it on a bigger screen. Do you open a web browser and find that video again? Guh. That would take too long. Instead, use Clik, an app that magically pushes YouTube videos from your phone on to any screen with a web browser.
What does it do?
You point your web browser to ClikThis.com and then open the Clik app on your smartphone. Scan the QR code on ClikThis.com and that web browser now becomes a big screen to watch videos on (with the Clik app being your snazzy remote). You can search Clik for videos (videos are only populated from YouTube for now), browse random videos or find your favorites. After you find the video you want to play, just click it on your iPhone or Android phone and the video will start playing on your browser's screen. Boom. Bang. Big screen YouTube videos without any fuss whatsoever. All the playback controls are on your phone, all the video is on the bigness of a web browser.
Why do we like it?
TV manufacturers are always trying to find a way to make web video content more accessible on your TV. But the problem is without a keyboard and mouse, it's terribly annoying to do so. No TV, I will not use you to watch YouTube if it's not convenient. Clik is convenient! If you have a web browser on your TV, Clik lets you easily watch any video you want on a much more enjoyable screen. The execution is seamless too, after scanning the QR code, you have full control of what that portal displays. It's also stupid fast, videos loaded just as quickly as they did if you were navigating on YouTube. Your friends can even join in the fun because more than one smartphone can control what's being displayed on the browser screen. Basically, Clik turns any screen smart by using your smartphone. [Laptop Mag]
G/O Media may get a commission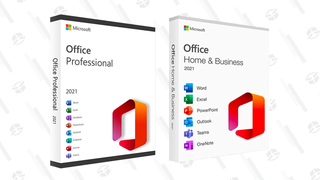 89% off
Microsoft Office Professional 2021 Lifetime License
Clik
Download this app for:
The Best
Big screen!
The Worst
Only YouTube videos