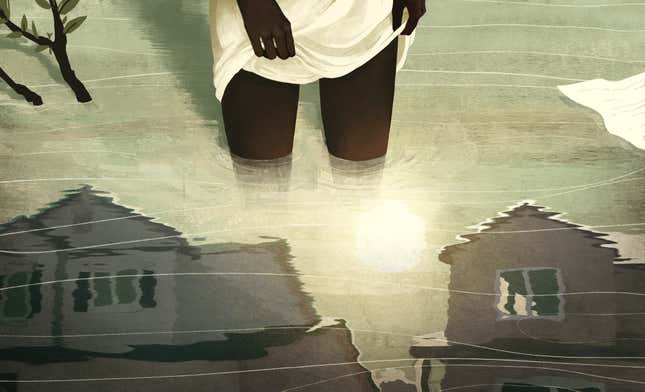 ATLANTA—Two to three times a year, heavy rain and backed-up raw sewage flood a block of Peoplestown, Atlanta. Stormwater collects on the highly-impervious concrete buildup of the intersecting interstates 20 and 75/85 just north and flows downhill where it pools on the residential street. Enough rain can bring foul odors and brown-colored water. Promises to update the city's sewers came and went with the 1996 Olympics, but failed to fix all of the problems in this low-lying, low-income neighborhood.

Meet Microsoft's New Surface Laptops
If the Earth's temperatures rise two degrees by 2100, many Americans will probably be fine. The UN has already determined that climate change could most harm the poorest countries and those adding the fewest greenhouse gas emissions to the atmosphere. Environmental challenges unequally affect low income Americans here in the United States, too, like those living in Peoplestown. Outdated sewer systems, lacking urban development and inequality in housing insulation make neglected neighborhoods more vulnerable to flooding, heatwaves and crippling energy costs. If efforts to mitigate our impact on the climate don't account for these structural imbalances, what's the point?
Atlanta serves as a example of a city demonstrating the potentially unequal consequences of weather and climate events, particularly in poor communities already subject to flooding and pollution like Peoplestown or those on Proctor Creek. You might hear more about climate change's effects on extremes like hurricanes and droughts. Evacuating and surviving extreme events, as recently made clear by a series of devastating hurricanes, is a much more difficult hurdle for the poor. But even looking at more incremental, smaller events demonstrates that the issue is a systematic one. And regular rainstorms will continue and worsen.
"We have to recognize that climate change is predicted to increase the frequency of small-scale storms that don't make the news but still have an impact," Melanie Pearson, Director of Community Engagement at Emory Universty's Rollins School of Public Health's HERCULES Exposome Research Center told Gizmodo. "Just heavy rainfall affects these communities."
Peoplestown, just south of downtown Atlanta, and the areas around Proctor Creek on the city's west side both face considerable flooding during rainstorms. The city is loaded with impervious surfaces that causes water to sit on the surface, rather than seep into the ground. Its infrastructure isn't quite set up to handle the creek's flooding or Peoplestown's deluge of storm runoff, and aside from flooding, there's the concern that the water can contain dangerous microorganisms like E. coli or leave behind pools of water in which mosquitos can breed, said Pearson. The city is aware of the problems faced by these low-income neighborhoods and is attempting to revitalize the Proctor Creek watershed with trails and updated infrastructure, and are implementing short- and long-term plans for Peoplestown. That includes paving permeable streets, building landscape elements that direct flowing floodwaters and a storage vault for floodwater beneath the parking lot of a nearby stadium.
Despite that, residents feel like they've been neglected. "The neighborhood of Peoplestown dealt with the promises made by city officials and developers to address some of the issues we've had," said Columbus Ward, president of the Peoplestown Revitalization Corporation. "We've had promises before the Olympics of what would take place in the community." The New York Times discussed these broken promises back in 1996, and Ward felt these updates didn't come to the poorer neighborhoods since then.
The city has been trying to fix some of the flooding issues, but not without controversy. One solution includes bowl-shaped parks built with special ponds and landscaping to hold stormwater. But this plan required buying Peoplestown residents out of their homes and some of the land via eminent domain. Many took the deal, but the move sparked anger and protests as well for those who thought the plan would bring gentrification and displacement. A similar pond now sits in Historic Fourth Ward Park near the city's Ponce City Market, now a multi-tiered, walkway-lined public space in a gentrifying neighborhood. A similar park is planned for Vine City near Proctor Creek—what that means as far as gentrification remains to be seen.
Atlanta deals with heat as well: despite its abundance of temperature-regulating trees, the urban heat island effect is especially bad. The city itself can be up to eight degrees warmer than the surrounding suburbs, shows a NASA analysis, an effect which leads to higher highs as well as less cooling overnight. And unlike flooding, the socioeconomic disparities in heat impacts are less visible and less obvious than sewage backed up on a public street.
Stefanie Sarnat at Emory University has studied the effects of both extreme heat and air pollution on Atlanta. Heat leads to more emergency room visits among the elderly, as well as those susceptible to renal disease and asthma, she explained. Higher temperatures can also lead to more emergency room visits for fluid and electrolyte imbalance. It's difficult to weed the injustice out of the dataset, the poor are more susceptible to diseases like asthma, diseases which could face consequences from the increased heat. Additionally, she noted the poor may have worse access to care, making heat-related exacerbations even worse.
The need for air conditioning in the hot city means spending money on energy bills, and the result can be crippling costs for Atlanta's poor. Low-income families typically live in poorly-insulated homes, in neighborhoods with old, inefficient air conditioners—so they need to draw more power to remain healthy, comfortable and productive, said Marilyn Brown, professor in the school of public policy at Georgia Tech and co-recipient of the 2007 Nobel Peace Prize for co-authoring the IPCC Report on Mitigation of Climate Change. "They also often rent and don't have control over their utility bills," she said.
Nationwide, low-income households spend 7.2 percent of their annual incomes on energy, three times more than higher income household that spend 2.3 percent according to a recent report by the American Council for an Energy-Efficient Economy. Brown noted that "in Atlanta the situation is more dire: my city's low-income households spend, on average, 10.2 percent of their income on energy, the third highest of any major city in the U.S. A quarter of Atlanta's low-income households have an energy burden of 18.2 percent or higher, and this is only going to get worse as the global climate warms."
Like it's hard to link individual hurricanes to climate change, it's hard to say flat-out what climate change's effects on poor communities will be, explicitly. Rather, you must look at individual examples and extrapolate how climate change's effects might exacerbate these problems. But more heat and more intense storms are some of the most basic realities of what climate change could hold.

"Many cities' stormwater management systems were designed for last century's rainstorms," Marshall Shepherd, Director for Program in Atmospheric Sciences at the University of Georgia, told Gizmodo. "We're getting more urban flooding." Regarding Atlanta specifically, he's previously mentioned that more impervious surfaces like parking lots or roads can make floods worse.
All of this means that a mitigative climate change strategy alone, carbon-cutting activities like driving an electric car, buying an efficient light, are pretty meaningless if, in a hundred years, you'll still be living in a community and on a salary resilient to the effects of climate change while the poverty-stricken bear the brunt of the effects. And at the rate income equality is growing between the top one percent and the bottom 99 percent, things could be a whole lot worse by 2100. The obvious environmental injustices and potential future of worsening effects has driven action from both civil rights leaders and community activists.
Dr. Gerald Durley, for example, is an Atlanta civil rights activist and pastor emeritus at the Providence Missionary Baptist Church who has taken up environmentalism, specifically climate change, as a civil rights issue on which he preaches to motivate his congregation and the community. Durley met and marched with Dr. Martin Luther King Jr. in 1963, but was late to the climate fight. Today, he advocates that the only way to solve climate change is by bringing together educational, scientific, business, political, and faith interests to find common solutions, spreads awareness and encourages his parishioners to go green via recycling, and using the church's community garden.
"I thought, this is for tree huggers, white folks, folks with a lot of time," he said. "I'm here for people going to jail, teenage pregnancy, poor education... These folks with their conservation can sit and talk in a conference and the biggest thing they leave with is where they're going to have the next conference: Alaska, Paris, or Iceland."
But then the importance of climate change clicked. "Everywhere I go, it's negatively and disproportionately impacting people of color and low-income populations," he said. "This is injustice."
Then there are community efforts to tackle the issues faced by individuals in the areas around Peoplestown and Proctor Creek and elsewhere in Atlanta and Georgia. Organizations like ECO-Action and community boards hope to involve and organize citizens to better the environment of their communities and make their problems known so the city of Atlanta, Army Corps of Engineers and the EPA can assist in their struggles. ECO-Action director Yomi Noibi hopes any solutions to flooding will be sustainable, maximize the use of nature and the environment, and most importantly, involve the community in which he lives. "Our concern for climate change is not just based on the science but how we can make it real to the people most vulnerable," he said.
Atlanta is just one example of a city where environmental issues affect the advantaged and disadvantaged unequally. The poor are likely to have worse access to air conditioning in general, "due to the combination of capital costs and utility bills," according to a 2004 Congressional Black Caucus Foundation document. They're more likely to live close to polluted, industrial locations. And of course, any environmental challenge like flooding and drought is more likely to harm them. Coastal cities face sea level rise and more powerful storms, the southwest will face more heat and drought, and the Midwest could see more severe weather. Rural counties that rely on farming are vulnerable as well—Georgia lost much of its famous peach crop this year after a warm winter. Any of these issues, taken as weather—a bad storm, a drought, a failed crop or a tornado, would affect the poor worse than the wealthy.
That means that any solution to climate change meant to help anyone other than rich folks must be done with these poorer communities in mind. "We have been dealing with false solutions because we've been heavily focusing on mitigation as if it was the only issue to deal with," Fatemeh Shafiei, associate professor and chair of political science at Spelman College, told Gizmodo.
Activists and professors alike want residents to think about why they're fighting climate change—if we reduce emissions, Peoplestown will still flood with sewage unless its pipes are fixed. The folks who will bear the brunt of the effects of severe weather or a low-quality environment, regardless of whether the climate is changing or not. But as shown in Peoplestown, even solving the environmental problems of these communities (those potentially exacerbated by climate change) can be difficult if not done sensitively.
Specifically for the city of Atlanta, Daniel Rochberg, chief strategy officer for Climate@Emory at Emory University, suggested "expanding energy efficiency programs like weatherization assistance," finding ways to lower the amount energy needed for heating and cooling homes, could reduce emissions and reduce the cost of energy simultaneously. He suggested mitigating the urban heat island effect with things like reflective roofs and more trees. Finally, he suggested finding climate change solutions that are also beneficial from a justice perspective, such as efforts to reduce flooding around Proctor Creek.
On a more general scale, strategies meant to help humans adapt to the effects of a changing climate must take poor and underserved communities into account. "Devising solutions requires adaptation and building community resilience to the shocks of climate change weather-related events," said Shafiei. "Mapping where vulnerable populations such as elderly, low income and frontline communities reside...will go a long way in need assessment that can inform government policy," and ensure that any money goes to the communities that need it most.
This article was made with funding from Participant Media, the creator of "An Inconvenient Sequel: Truth to Power."