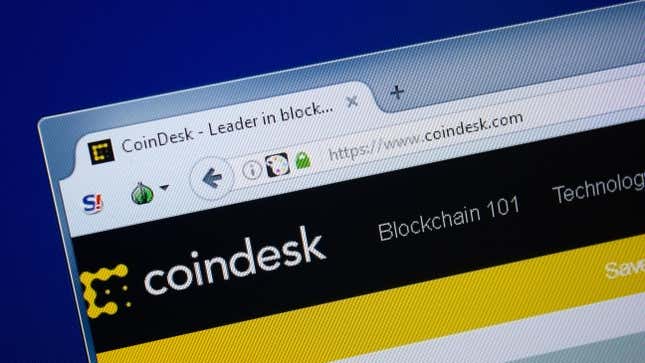 The finger-on-the-pulse and Polk Award-winning crypto news media company CoinDesk is in dire straits. The website has reportedly laid off 45% of its editorial staff as parent company Digital Currency Group explores a sale.
The Biggest Crypto Heists of 2022…So Far
The Block reports that the company's layoffs include 20 employees at the website. CoinDesk management announced the layoffs via an internal email obtained by the outlet and is set to have an all-hands meeting with staff at 4 p.m. Eastern Time to announce the layoffs more formally. CoinDesk CEO Kevin Worth wrote to staff members in the email that the job cuts are a "required step to ensure a financially sound business moving forward," according to quotes by The Block.
"The purpose of the meeting is to inform everyone that today several roles, predominantly in our media team, were impacted by a reduction in force," Worth wrote in the email. "This is an incredibly difficult message to send to everyone over email and yet I also wanted everyone at CoinDesk to know as soon as possible what is happening today."
The layoffs come as Digital Currency Group hones in on a sale of the website. The Wall Street Journal reported last month that an investor group led by Matthew Roszak of Tally Capital and Peter Vessenes of Capital 6 were zeroing in on a $125 million deal to purchase the media company—Digital Currency Group acquired the website for approximately $500,000 in 2016. Per the terms of the deal, the Journal says that Digital Currency Group would retain a stake in the company, and the website's management team is expected to be retained. The deal will reportedly close in the coming weeks.
CoinDesk did not have a comment on the layoffs or sale when contacted by Gizmodo.
Earlier this year, talks of a sale surrounding CoinDesk began. Digital Currency Group received unsolicited offers in the ballpark of $200 million in the months leading up to January 2023. CoinDesk most recently exploded in worth after the outlet broke the story on the spectacular implosion of Sam Bankman-Fried's FTX crypto exchange late last year.
Correction August 15 8:05 a.m. EST: A previous version of this article stated that 45% of the company's staff was laid off. 45% of the company's editorial staff was laid off. This article's headline and introductory paragraph have been updated.