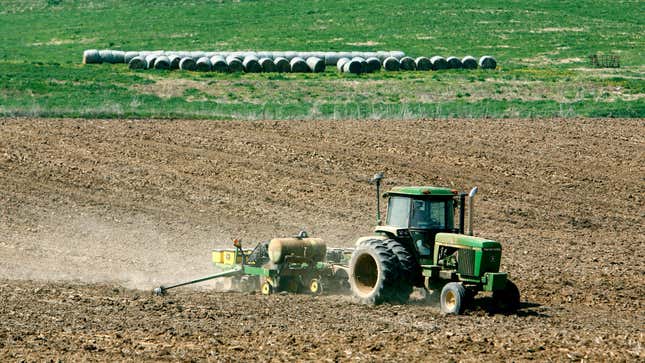 Agricultural equipment makers like John Deere will be legally required to give Colorado farmers manuals for diagnostic software and other repair tools thanks to the state's new right-to-repair law. The first-of-its-find legislation could have wide-reaching ripple effects, especially in the tech industry where consumer groups have spent years jockeying with device manufacturers over the right to repair their devices. For farmers, the successful Colorado legislation could spark copycats laws nationwide.
John Deere Owners Rejoice... Kinda
For years, farmers have fought with equipment makers who have hoarded diagnostics and other materials in an effort to ensure repairs only happen at their authorized dealers. Major brands, like John Deere, have defended the practices as necessary to ensure safety and quality control. But farmers, both in Colorado and nationwide, have balked at that defense and said the manufacturer's walled garden can lead to inflated repair prices and annoyingly long waits.
Colorado's Consumer Right to Repair Agricultural Equipment Act changes all that by forcing manufacturers to "provide parts, embedded software, firmware, tools," and other documents to let independent repair technicians run a diagnostic or fix a piece of equipment. The bill passed the state senate by a wide margin of 46-14 and is expected to be signed into law by the state's governor Jared Polis in the coming days.
"Everyone who eats will benefit from this law," Repair.org Executive Director Gay Gordon-Byrne said in a statement. "Farmers will have more timely options for repair, which will make it easier to use high-tech products which in turn enable more productive farms."
John Deere did not immediately respond to Gizmodo's request for comment.
Right-to-repair laws like Colorado's are crucial for farmers because tractors and other seemingly low-tech equipment, in reality, actually look a whole lot like computers in 2023. iFixit, a consumer advocacy group that supports right-to-repair efforts, says farmers are simply unable to complete many repairs that cross paths with a tractor's emissions control system because doing so requires a specific code only available to dealer mechanics.
In the John Deere example, authorized dealerships are in short supply, with one report from the Public Interest Network estimating there were 1,437 farms in Colorado for every authorized dealership. The resulting backlog meant farmers could reportedly have to wait up to eight weeks to receive a repair.
Supporters of Colorado's bill, like Public Interest Research Group (PIRG) Right to Repair Campaign Director Kevin O'Reilly, are confident the law could serve as a springboard for similar legislation in other countries and, possibly, other sectors of the economy as well.
"With this bill, Colorado legislators are giving farmers the repair relief they deserve," O'Reilly said. "But farmers across the country should know: This is just the start."
Right-to-repair bills are having a moment 
PIRG estimates 20 state legislatures across the country have introduced new right-to-repair-focused legislation spanning various industries, from agriculture to tech. U.S. Public Interest Research Group Right to Repair Campaign Director Nathan Proctor told Axios a patchwork legislative approach amounts to a "nightmare scenario" for manufacturers who don't want to deal with the headache of varying repair laws from state to state. House lawmakers in Congress introduced their own federal right-to-repair bill last year, though it's yet to gain much traction.
On the consumer tech side of things, New York State signed into law right-to-repair legislation targeting electronic equipment manufacturers, earlier this year. The law required equipment manufacturers to make diagnostic and repair information for digital electronic parts and equipment available to consumers and independent repair providers which could have wide implications for consumers looking to repair everything from smartphones to laptops and IT equipment. Critics, however, attacked lawmakers for adding last-minute amendments to the legislation that creates loopholes potentially letting original equipment manufacturers off the hook in the name of privacy and security concerns.
Still, in some cases even just the threat of future legislation or regulation is enough to make a meaningful difference. In 2021, Microsoft broke from competitors by announcing it would let customers begin repairing devices outside the company's limited network of authorized repair shops. Around a month later, Apple—long considered the DIY repairman's antichrist—said it too would begin accommodating DIY repairs by selling customers parts to repair their iPhones and Macs.