Browsing the web on a console is kind of a stupid idea. That's what we have PCs for. But if you must, here's our take on the Opera/Wii browser versus the PS3's browser.
Hands down the Wii interface is better than the PS3's, thanks to the remote. I really enjoyed lounging on my couch with one arm flicking around pages. None of this mouse or joystick business. And finally when compared to using the PS3's controller the Wii is a breeze to type with. Granted it's no keyboard, but a welcome improvement.
But while flash videos played fine on nintendo.com, YouTube vids got no love. That's a sad thing, as its the number one website we'd like to watch away from the PC. And the PS3 excels at this. And more.
Edit I tried YouTube later today and for whatever reason it's working for me now. So there you go, YouTube+Wii=<3
Now I know one of the more anticipated features was flash support. I found mixed results with this. At wii.com I found the flash videos there worked perfectly. However when I went over to Youtube it said my software was either incompatible or too old. So they have some work to do there. Again, this is beta.
G/O Media may get a commission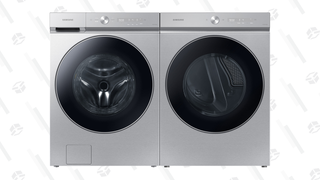 Get $500 back in credit
Last Chance: Samsung Bespoke AI Washer and Dryer Preorder
Now onto what went wrong. First off, the Wii's lower res can't handle small text on web pages nearly as nicely as the PS3 running in 1080. And there is a thick black bar that goes around the top and sides of the screen, seemingly for no reason. Two, there isn't a permanent address bar. To type in a new website you have to go back to the start page. That is completely unnecessary, especially with this useless black bar taking up space.
Now I don't want you to get the idea in your head that the browser was poorly conceived, it wasn't. There are just a few things in the way of it going from good to great. Hopefully by March when the final candidate is released it will feel a little more polished.
When that happens, we'll drop our final verdict. For now, we pose the question. WTF are you doing browsing the web on a console?