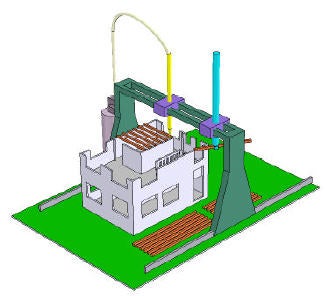 IMPORTANT PUBLIC SERVICE ANNOUNCEMENT: Due to a recent influx in the wolf population, little piggies in our community have been under strict curfew to avoid bloody dismemberment after dark. But now, wolves have adapted to "blow down" houses in the areas north and southeast of the Denny's Unlimited Bacon Breakfast Buffet–just off Route 49–that drives our local economy.
Should you find your house destroyed by high winds, there may be hope. USC's Contour Crafting Device can construct a new home out of dense liquid materials in as little as 24 hours. Two story dwellings seem out of the question, but beggars can't be choosers. In the meantime, we strongly advise you take immediate shelter at the Denny's Unlimited Bacon Breakfast Buffet, just off Route 49. Thank-you.
Video transmission after the jump.
Print Your House [core77]