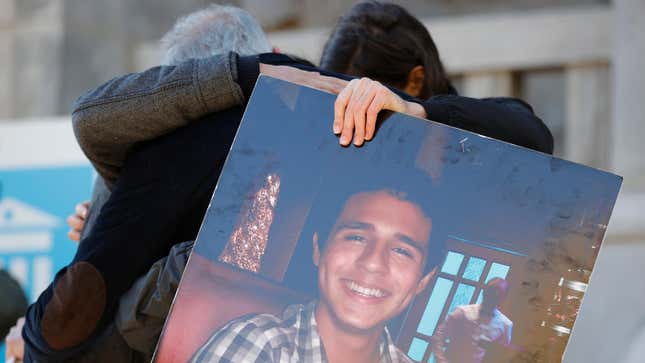 New details have emerged regarding the police killing of Manuel Esteban Paez Terán (a.k.a. Tortuguita). The 26-year-old environmental activist was shot to death by law enforcement in Atlanta, Georgia on January 18, amid ongoing protests against the construction of a massive cop training facility. Previously, publicly available specifics on the circumstances of Paez Terán's death beyond police claims have been scarce. But an official autopsy report from the county now offers more information.

Twitter Is Shifting Right | Future Tech
Police shot Paez Terán at least 57 times, according to the newly publicized results of the autopsy conducted by the Dekalb County Medical Examiner on January 19. The complete autopsy report was previously detailed by ABC News and other outlets and released in full by local news affiliate Fox 5 Atlanta on Wednesday.
Last month, an independent autopsy commissioned by the Terán family alleged that Tortuguita had been shot while sitting cross-legged with their hands raised. The county's autopsy does not corroborate that account, as the medical examiner determined there were "too many variables...to draw definitive conclusions concerning [Tortuguita]'s body position."
What the report does definitively say, though, is that the activist's body was riddled with "at least 57 gunshot wounds." They were shot in the head, torso, hands, legs, right foot, side, back, and genitals at indeterminate range. The medical examiner listed the cause of death as "multiple gunshot wounds."
Most of those wounds were not immediately lethal or incapacitating on their own, per the report. Patterns of bleeding suggest "the deceased was alive with some element of pulse and blood pressure when the wounds were inflicted." A shot to the head, and a handful of other gunshots, would've "caused [them] to become immediately unconscious or incapacitated," and so the report notes these wounds were probably not the first inflicted.
"While the autopsy report provides additional information, it does not bring the family closer to the answers they seek," the Terán family said in a statement released Wednesday night, per CBS News.
A Georgia state trooper was shot and injured in the same incident wherein police killed Paez Terán. Law enforcement have claimed that police fired on the protestor only after Tortuguita "did not comply" with verbal commands and "shot a Georgia State Patrol Trooper." The Georgia Bureau of Investigation previously posted an image on Twitter of a handgun the agency claims Tortuguita legally purchased and was in "[their] possession when a Georgia State Patrol trooper was shot." In that same tweet thread and a related press release, the GBI said ballistic analysis confirmed a match between Paez Terán's alleged handgun and the bullet removed from the wounded officer.
However, the county autopsy report of Tortuguita's body notes that "gunpowder residue is not seen on the hands." Gunshot residue analysis does not always perfectly reflect the course of events, but often if someone has fired a handgun, residues will be detectable on their hands. Aside from law enforcement, there are no known witnesses to Paez Terán's killing. Many of Tortuguita's friends have described them as embodying nonviolent ideology and have expressed doubts about the police version of events.
GBI has said there is no body camera footage of the event itself. But Atlanta police did release body cam footage from nearby police officers recorded at the time of Paez Terán's killing. In the video, numerous gunshots are audible in quick succession, followed by indiscernible shouting. The cop whose camera is recording jokingly asks, "Is this target practice?" Another officer responds, "Those are real shots fired." More shouting follows. The recording captures police speculating that the gunshots were "suppressed." In the video, a cop audibly says "you fucked your own officer up," raising additional questions about the police story that Tortuguita shot the wounded officer. However, law enforcement has stood by their original accounting of Tortuguita's death.
At the time of their killing, Tortuguita had been camping in Atlanta with other activists for months, occupying forestland and protesting the construction of the planned "Atlantic Public Safety Training Center." The sprawling 85-acre, $90 million police training facility, nicknamed "Cop City," has drawn significant pushback from the local community, abolitionists, and environmental advocates alike. Environmental critiques include that Cop City impedes on one of Atlanta's last and largest remaining green spaces and that cutting down 85 acres of forest habitat would damage the local ecosystem, according to a report from the New Yorker.
Other opposition is rooted in concerns over how the very expensive Public Safety Training Center might actually be bad for public safety. Protestors and others have expressed fears that, if built, the center will lead Atlanta's police force to become more militarized—increasing the danger that city residents, especially Black residents, face from law enforcement. Activist groups opposed to Cop City have described the facility as a place where police would be learning and practicing "urban warfare."
As previously reported by Gizmodo:
In Atlanta, Black people are about 14.6X more likely to be arrested for non-violent offenses than white people are, according to data from the non-profit Police Scorecard. In nearly one of every 1,000 arrests, Atlanta police employ force. In about 3.2 out of every 100,000 arrests, Atlanta police shoot the person. 88% of the people killed by Atlanta police officers are Black, Police Scorecard notes.

In the ongoing protests against Cop City's construction, more than 40 protesters have been charged with domestic terrorism over alleged acts of property destruction. If convicted, those activists could each face a maximum of 35 years in prison.
This article has been updated with additional information regarding police body camera footage recorded near the site of where cops shot and killed Tortuguita.