At least one of Doctor Who's most iconic monster races is returning for Matt Smith's regeneration. Natalie Portman talks all things Jane Foster in anticipation of Thor: The Dark World, while Iron Man 3 writer Drew Pearce offers a status update on the rest of the Marvel universe. Plus we officially have an Oscar-nominated Rocket Raccoon! Spoilers reporting for duty!
Top image from Captain America: The Winter Soldier.
Star Wars: Episode VII
It should be stressed that this is all just a rumor, but LucasFilm is said to be on the verge of making its first major casting announcement – or, indeed, its first casting announcement of any kind – for the new Star Wars film. Specifically, director J.J. Abrams has reportedly cast Sherlock star Benedict Cumberbatch as the main villain, because apparently even he has forgotten he already did that in Star Trek Into Darkness.
Indeed, the rumored plan is that Cumberbatch would take on a major role in multiple films of the new trilogy, with some comparing his character – likely a Sith Lord, at least in this particular version of the rumor – to the Darth Vader of the new series. Which, if Star Trek Into Darkness is any indication, probably means Cumberbatch is actually playing Darth Vader, but this will be strenuously denied until it's revealed halfway through the second film.
The possibilities are limitless, or at least as limitless as they can be when we already went through this story once before, just with the other "Star" franchise. But hey, Cumberbatch really is excellent in Sherlock, and he got generally good reviews for his work in Into Darkness, so it's not as though this would be terrible casting. Just rather painfully predictable, given the circumstances. [Badass Digest]
G/O Media may get a commission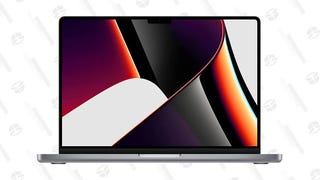 Save $300
2021 14" 1TB MacBook Pro
Meanwhile, Bonnie Burton offered one suggestion for whom Cumberbatch could be playing on Twitter:
---
Avengers: The Age of Ultron
Iron Man 3 writer Drew Pearce, who says he had some knowledge of the nature of the Avengers sequel before the big Comic Con announcement, discusses how the events of Tony Stark's last adventure could lead into this next movie;
"We take his arc reactor out, but I think we also make a pretty definite statement that he is Iron Man. And although Joss isn't part of the process as such, he saw all the cuts of the movie, so I've got to assume he knows exactly what he wants to do with Tony in [The Avengers: Age of Ultron] and how we've left [Tony Stark] is going to help that, not hinder it… Obviously, Age of Ultron suggests that in Avengers 2 there will definitely be some level of, if not giant evil robots, then definitely a robotic or artificial intelligence entity. I may or may not have been excited about it for a year. Not every aspect of Phase Two is planned already, but Joss has been thinking about it for a year and [Marvel Studios president] Kevin [Feige] has been thinking about what Avengers 2 does since the first film. The scale I think they're going to reach for is going to be truly epic, which is incredible when you consider how epic Avengers was. But on a character level the story will actually be smaller, or at least more intimate. It's hard to put a list together of all the things Joss [Whedon] is good at as a writer, but definitely in the top five would be dealing with the shifting dynamics of a large group of characters."
---
Thor: The Dark World
Star Natalie Portman talks at length about returning to the role of Jane Foster, starting with why it's so important for her character to bring a humorous perspective to the movie's godly wars:
I think one of the reasons the Marvel movies do so well is that they keep the comedy amid the action and the drama that is part of these films as well and they keep it entertaining. It's more like life: even in the worst situations, always making jokes to lighten things up.

In this film, it seems like her skill set is almost as pivotal as Thor's in resolving the films conflicts. It's just different from the first one.
Yes, she's really helping. But not in like a physical superhero way, but her scientific understanding kind of helps understand what's going on with the correspondence of different worlds with each other.
Next, Portman talks about her action training (or lack thereof), plus getting to hit Tom Hiddleston's Loki:
It was actually a punch. We did a few that were fake, but they could tell because I am just bad at that. (laughs) So there were a few real ones because they were like, 'you are just a little girl, you really can't hurt him'. So I don't know, he acted like he could handle it, but I think I actually hurt him.

Did you do any training boot camp like Loki and Thor?
No. I watched a lot of physics videos and tried to understand what my lines meant. (laughs) That was my preparation. But I don't really have any action in it.
She also discusses her experiences filming sequences in Asgard, starting with the costumes:
It was amazing, they are so beautiful. You have to walk very differently, but they were actually really comfortable. It's one of the joys of being in these movies, that there's just such a high level of craftsmanship. The silk is printed like specifically for the film, these Asgardian symbols and the jewelry and the armor is made by a metal worker in the studio and it's just like a level of craftsmanship of old movie making that we don't get to see much anymore. So it's pretty amazing.

How was it working with Anthony Hopkins [as Odin]?
It was crazy. I was very intimidated, but luckily he's one of the kindest people I have ever met. So he made me feel really at ease and he's just, man, he's the best. You just sit there and try to remind yourself to ask because he's just like, you are jaw dropped on the floor watching him.
There's still more at the link. [Static Multimedia]
---
Captain America: The Winter Soldier
Iron Man 3 writer Drew Pearce also offers some high praise for the upcoming Marvel slate, particularly Joe and Anthony Russo's Captain America sequel:
"This next phase has such a good bunch of directors, from the Russos, who by all accounts have knocked it out the park with Captain America 2 - I've seldom heard buzz from the editing room as good as that movie. Avengers 2 will be Joss Whedon's baby, and reaction to James Gunn's Guardians of the Galaxy has been brilliant. Even after the tough journey of two and half years making Iron Man 3 as good as it can be, I don't just have respect for Marvel as unit; I'm honored for my time there, and I'm constantly talking to them about what we do next."
[SciFiNow via Comic Book Movie]
---
Guardians of the Galaxy
Marvel Studios has now officially confirmed that Oscar nominee Bradley Cooper is going to voice Rocket Raccoon. It's still unconfirmed whether Vin Diesel will join him as the voice of Groot. [Marvel]
Marvel Studios head honcho Kevin Feige drops a few more hints about the film:
"We're not making this to make Marvel's Star Wars. We're doing this to explore the other side of the existing Marvel Universe. The fact that Peter Quill (Chris Pratt) is a human from our time, that he carries a personal cassette recorder with him, already it's very different. It's not a long, time ago in a galaxy far, far away, it's now in a galaxy far, far away."

Is it more of a stand-alone film?
"Certainly more than the others. We've already said that Thanos plays a part in it and is a character in it. That in and of itself should tell you it's connected to the other worlds."

Is Thanos the main villain?
"Ronan The Accuser (Lee Pace) is very much the main bad guy. And Thanos is lurking above it all. You will learn more about Thanos in Guardians, for sure. Certainly you'll get more than the one turn-around-and-smirk. You'll get much more than that."
---
Transformers 4
Apparently because Michael Bay is just too much of a coward – yes, you all heard me – to call this movie Trans4mers, some websites for various possible sequel titles have recently been registered. Assuming Paramount chooses from one of the registered domain names, the fourth Transformers movies could be called Transformers: Last Stand, Transformers: Apocalypse, and Transformers: Future Cast, the last of which just sounds like a somewhat clumsily phrased reference to the fact that there's a whole new batch of actors in this one. Anyway, I suppose the title could still be Trans4mers: Future Cast, or what have you. The dream lives! [Coming Soon]
And here are set photos from the Blue Cross Blue Shield Tower in Chicago. [TFLAMB]
---
Horns
Harry Potter star Daniel Radcliffe explains why he signed on to star in the adaptation of Locke & Key creator Joe Hill's story about a young man who grows horns after his girlfriend disappears:
"He's a great character. It's nice to play a real sort of anti-hero who does a few genuinely nasty things to people… [Director] Alex Aja is one of the most special directors, I think. The way he puts scenes together is beautiful and visually stunning."
---
Doctor Who
Stuntwoman Darrelle Parker sent out a since-deleted tweet that said it was "Great to be stunting again for Dr Who in the Christmas special playing a Cyberman." Although it's possible Parker just decided to wind everyone up for no particular reason – I mean, it is Twitter, for goodness sake – that would seem to reveal the return of the Cybermen in Matt Smith's farewell episode. There have also been some rumors that the Cybermen would appear in the preceding 50th anniversary special alongside the Daleks and Zygons. Either way, it seems only fitting that Matt Smith, who was so consciously influenced by Patrick Troughton, would take on the 2nd Doctor's most iconic foes in his final story as the 11th Doctor. Besides, the Cybermen are the original regeneration monsters, after all. It's high time they finish off another Doctor. [Doctor Who TV]
---
Agents of S.H.I.E.L.D.
Here's a behind-the-scenes look. [Coming Soon]
---
The Walking Dead
Here's a promo. [SpoilerTV]
---
Once Upon a Time
Here's a first look at Rose McIver as Tinkerbell.
And here are some thoughts from creators Eddy Kitsis and Adam Horowitz:
Kitsis: Our Tink is very strong, a lot of fun and not afraid to go out and have a few shots. And although her heart is usually in the right place, she is mischievous.

Horowitz: Tink has gone through an evolution in our story. She begins in one place and ends in another.
[TV Guide]
And here's a promo for the coming season. [Coming Soon]
---
Additional reporting by Amanda Yesilbas and Charlie Jane Anders.