No, Angela Lansbury won't be heading to Westeros. Supergirl will explore Kara's feelings about her more popular cousin. Jared Padalecki discusses the eventual end of Supernatural. Plus, don't expect an Oliver/Felicity recoupling on Arrow just yet, and new looks at Westworld, Outlander, and Channel Zero. To me, my spoilers!
The Disappointments Room
Here's a clip from the cool-looking horror movie with a terrible name:
And a new TV spot:
---
The Walking Dead
Speaking to Entertainment Weekly recently about the lengths the show has gone to protect the identity of Negan's victim, Greg Nicotero may have let slip that more than one person could perish at the villain's hands in the season premiere (emphasis added):
But I'd say in retrospect, I don't think we would have changed anything. I would have still supported doing it the way that we did it, because of the fact that the story doesn't end there. If we would have shown the deaths, then they wouldn't have felt our characters in season 7 the way they need to. And the thing that I think a lot of people will get out of it is how that moment changes the entire makeup of our universe within a split second. And it's that moment that launches our entire season 7 into that direction.
It may just be a slip of the tongue or an error in transcription (unlikely since Nicotero pluralizes twice) but if it isn't, we might be seeing more than one long-time cast member depart the show via Negan's baseball bat.
---
Game of Thrones
Following recent rumors, a spokesperson for the Angela Lansbury reached out to EW to confirm she will not be appearing on the show after all.
G/O Media may get a commission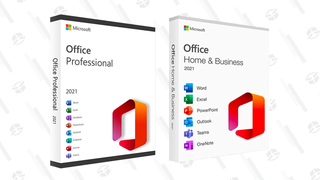 89% off
Microsoft Office Professional 2021 Lifetime License
---
Supergirl
The show's opening two-parter will deal with Kara's feelings about her cousin being a more popular superhero, according to Andrew Kreisberg:
When Supergirl and Superman walk into the room, everyone gets really quiet about him. And her reaction is, "Oh, please…" We sort of liken it to if your brother was a famous rock star, or a famous movie star, all you remember is a lifetime of growing up and fighting over who's sitting in the backseat, and sharing a bathroom, and he pulled my hair. And then you go to a restaurant, and people are sending him drinks, like, 'Oh, right this way...' and that's sort of Kara's interaction.

People have asked us how do you make sure that Superman doesn't overwhelm the lead of your show? Rather than shy away from that, we're embracing it. It's kind of the idea like, yeah, he is more popular than she is. How does she deal with that? That's our take on that dynamic that's between them.
[IGN]
---
Supernatural
EW has an interview with the cast where Jared Padalecki reveals that he and Jensen Ackles are currently thinking they'll want to bring the show to an end after it reaches 300 episodes, but nothing is set in stone:
If we don't make it to 300, I think Ackles and I will both be truly bummed. When we get to 300, I think Ackles and I will think it might be time to say bye. There's a chance that changes, but we certainly do not take it for granted that we're going to make it to 300.
---
Arrow
Don't expect a romantic reunion for Oliver and Felicity anytime soon, according to executive producer Wendy Mericle:
They're both in crisis mode. Oliver's got two really big jobs, and [Felicity] is spinning out about Havenrock. Until they've gotten some clarity for themselves, there's not much room for the relationship side of things.
[TV Line]
---
Teen Wolf
The show's final season starts November 15h.
---
The Flash
The show's take on the Mirror Master will not have his classic mirror gun, but instead be a full metahuman, according to Todd Helbing:
He doesn't use the [mirror] gun. He's a true meta, but he's not necessarily warping into other dimensions.
[TV Line]
Time strikes back in a new trailer for the show.
---
Outlander
Season three has begun production, with a new picture of a bloodied Sam Heughan released to mark the occasion. [TV Guide]
---
Westworld
Four new pictures have been released through Entertainment Weekly. You can see the rest at the link.
---
Channel Zero
Something sinister lurks in the shadows in a new clip from the show.
---
Blindspot

Finally, here's a new sneak peek of what's to come in season two.
---
Additional reporting by Gordon Jackson. Banner art by Jim Cooke.