Never bet against a massive ice-cracking high-speed train. For months, everybody's been talking about how the Weinstein Company dumped the masterpiece Snowpiercer in limited release after director Bong Joon-ho wouldn't agree to cuts and a voiceover. But now... the movie's actually on its way to being a sleeper hit.
According to BusinessWeek, Snowpiercer made an impressive $21,398 per screen in its first, ultra-limited weekend. And when the film expanded to 250 screens over the July 4 weekend, it made $1 million, over $4,000 per screen, even up against a new Transformers movie.
This coming weekend, Snowpiercer expands to 354 screens — so check your local listings! — but it's also becoming available on video on demand (VOD). These days, it's pretty common for indie movies to release on VOD at the same time as theaters, or even before they hit theaters, but apparently it's unusual for a film to hit 354 theatrical screens and VOD at the same time.
Says BusinessWeek:
It's rare for a film playing in several hundred theaters and still expanding to become available to home viewers so quickly. [Tom] Quinn [with Radius-TWC] says he would like to have the movie in around 600 screens by its fifth week of release. While the conventional wisdom is that on-demand will eat into theatrical profit, he hopes that with a buzzed-about, big-screen experience such as Snowpiercer, VOD will work in tandem with the multiplex expansion.
G/O Media may get a commission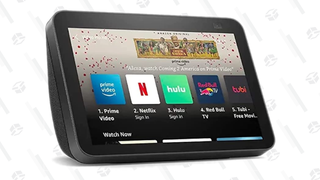 I guess this is a revolutionary strategy, that could backfire horribly. But Snowpiercer seems to have pretty amazing momentum thus far, and maybe quality will win out. Plus even if you can watch this film in your home, you may still want to see this one on the big screen — the visuals are that good.