There's a couple of Avengers 4 set pictures to wildly speculate about. Could DC's Supergirl movie be a period piece? The Bond franchise's regular scribes could be returning to Bond 25. Plus, new pictures from the returns of Outlander and Supergirl, and Morgan tempts fate in a new clip from Fear the Walking Dead. Spoilers, away!



Avengers 4
A new set photo from Gwyneth Paltrow from the set of Avengers 4 will no doubt have people speculating wildly about a Pepper/Tony reunion. Pepperony, by the by, is a very good shipping portmanteau.
Meanwhile, another set photo of Chris Evans sees Captain America sans Infinity War beard (but avec dog), which, when you think about it, is truly the greatest loss brought about by Thanos' culling of half the universe.
G/O Media may get a commission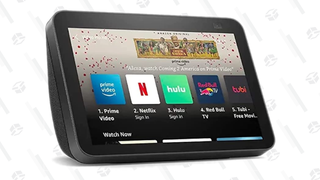 ---
Charlie's Angels
In a new interview with Comic Book, Kristen Stewart revealed the upcoming Charlie's Angels reboot will include a worldwide network of Angels in addition to the core trio.
There is a kitsch nature to the last ones that was super fun, but nowadays if you see a woman in combat, everything should be something completely and utterly well within their ability. "And [the new trio of Angels] work together really, really beautifully. And there's a whole network of Angels — it's not just three — it's women across the entire globe [that] are connected and helping each other.
---
Supergirl
According to The Playlist, the upcoming Supergirl movie will likely be a period piece set in 1970s featuring a teenage Kara Danvers.
---
The Colour Out of Space
In a recent interview with Birth.Movies.Death., SpectreVision co-founder Josh C. Waller announced the studio is moving forward with Richard Stanley's adaptation of H.P. Lovecraft's notoriously unfilmable The Colour Out of Space, which concerns a brand new color on the visible spectrum.
It's moving along. We announced that we were going to be doing it, what, three years ago? Let's just say that we're getting a lot closer. Significantly closer. Like, it's coming up, so I will be busy with Richard on set with that sometime in the near future.
---
Bond 25
A pinch of salt to take with your shaken but not stirred martini, because The Daily Mail reports EON has once again hired reliable series scribes Neal Purvis and Robert Wade to rewrite Bond 25, encouraging the duo to make the film's female characters "more front-and-centre."
---
Halloween

Coming Soon has new photos from David Gordon Green's Halloween. More at the link.
---
Jungle Cruise
Disney's Jungle Cruise has officially wrapped filming.
---
Ad Astra
Screen Rant has our first look at Brad Pitt as astronaut Roy McBride in Ad Astra.
---
Johnny English Strikes Again
Four new TV spots for the latest Johnny English movie see Rowan Atkinson struggle with magnetic boots, the Tour de France, inflatable rafts, a suit of armor, and more.


---
Arrowverse Crossover
CBR reports Cassandra Jean Amell has joined the crossover event as Nora Fries, the doomed wife of Batman villain Mr. Freeze, hinting that Victor could play a role in the threat that brings the gang to Batwoman and Gotham City. Or perhaps their roles will be reversed this time?
Elsewhere, Elizabeth "Bitsie" Tulloch took to Instagram to discuss her excitement playing Lois Lane.
Now, at a time when the noble profession of journalism feels under siege, it's a privilege to join the club of actresses who have played the dogged reporter. As far back as 1938 when she first appeared in Action Comics #1, Lois Lane has defied and subverted society's expectations of how women should behave. She was portrayed as opinionated, inquisitive, and an unapologetically badass career woman at a time when many representations of women leaned more towards meek and demure.
---
Charmed

Craig Parker (Reign) has joined the Charmed reboot as Alastair Caine, "the CEO of Morningstar Biotech and a benefactor of the Hilltowne University laboratory, which happens to be where Macy (Mantock) works. A charismatic businessman, Alastair will wreak a bit of havoc in the girls' magical and personal lives." [TV Line]
---
The Flash
A billboard for Ralph Dibny's detective service has been spotted in Vancouver.
---
Supergirl
KryptonSite has several office-centric photos from the season four premiere, "American Alien," including our first look at Mercy and Otis Graves. More at the link.
---
Doom Patrol
Just Jared has eighteen set pics of Doom Patrol's practical Robotman costume.
---
Legends of Tomorrow
Episode seven of the new season is titled, "Hell No, Dolly!" according to Keto Shimizu on Twitter.
---
The Gifted
Grace Byers spoke to CBR about her character Reeva Payge's intentions for the Hellfire Club in season two of The Gifted.
So the vision that she has is that — and I mean, it's no secret — she fully believes that it is impossible for humans and mutants to live peacefully in the same world. Her experience has told her that. The present has told her that. She has lost lots of people and lots of things due to that. So it has been proven to her time and time again that it's just not possible, and so she is working for a world and a nation where the mutants can live unharmed and at peace and free.
---
Supernatural
KSiteTV has images from the season fourteen premiere of Supernatural, "Stranger in a Strange Land." Click through for more.
---
Outlander
TV Guide also has photos from the season premiere of Outlander, "America the Beautiful." Head over there to see the rest.
---
Wynonna Earp
Bulshar is turning people into trees in the promo for this week's episode, "The Other Woman."
A mysterious woman who knows a little too much about the Earps arrives on the Homestead with a special mission for Wynonna and Waverly. The rest of the team must wrangle a deadly fire witch.
---
Fear the Walking Dead
Finally, Morgan volunteers to be bait in a clip from next week's episode, "I Lose People." Uh oh...
---
Banner art by Jim Cooke.