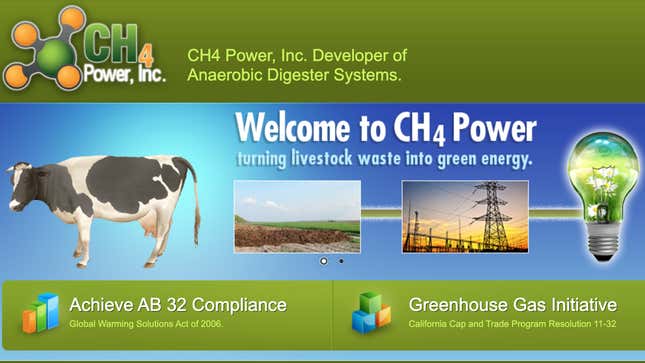 Stop me if you've heard this one before: A guy embezzled nearly $9 million by convincing investors he was turning cow poop into green energy—and then not building any of the machines at all.

Could NASA's Electric Airplane Make Aviation More Sustainable?
On Monday, 66-year-old Raymond Brewer of Porterville, California pled guilty to charges that he'd defrauded investors. Court records show that Brewer stole $8,750,000 from investors between 2014 and 2019 with promises to build anaerobic digesters, or machines that can convert cow manure to methane gas that can then be sold as energy, on dairies in various counties in California and Idaho. But instead of actually building any of those digesters, Brewer spent it on stuff like a new house and new Dodge Ram pickup trucks.
According to the U.S. Attorney's Office of the Eastern District of California, Brewer was a prolific scammer. He took potential investors on tours of dairies where he said he was going to build the digesters and sent faked documents where he'd signed agreements with those dairies. When investors asked how things were going or for updates on the construction of the digesters or how the digesters were running, Brewer sent over "fake construction schedules, fake invoices for project-related costs, fake power generation reports, fake RECs, and fake pictures," as well as forged contracts with banks and fake international investors. He must have been great at Photoshop!
Part of the appeal of the scam was in what's known as Renewable Energy Credits (REC), which are credits issued by the federal government signifying that renewable energy has been produced on a site; those credits can then be sold to companies looking to offset their fossil fuel emissions. Brewer told his investors that he'd get them 66% of all the profits from those credits.
Five years is a hell of a long time to promise folks money and not deliver—which is why the U.S. Attorney's office has described Brewer's setup as a "Ponzi" scheme, because he began repaying old investors with money he was scamming off of new ones. When investors began to get suspicious, the U.S. Attorneys' office said, Brewer moved to Montana and assumed a new identity. He was finally arrested in 2020.
Some profiles for Brewer's company, CH4 Energy, are still active on business directories like PitchBook and food waste resource site ReFED. The company was even the subject of a profile on its "work" in local paper Visalia Times-Delta in 2016 and was part of a story in the LA Times in 2013 on dairy farmers and renewable energy.
In the LA Times story, Brewer is quoted as talking about the reluctance of dairy farmers to install the digesters.
"Brewer said he tested his system in other states, such as Wisconsin and Idaho, before shopping it around with California dairy farmers, whom he said were very skeptical," the LA Times wrote. "He eventually signed his first contract with [a farmer]—'Talk about apprehensive,' Brewer recalled. 'That was a little bit of an understatement.'"
Our buddy Ray wasn't totally bullshitting—pardon the pun—in peddling his ideas. Anaerobic digesters are real machines that do convert animal waste into energy, and millions of dollars in federal and state money have been spent on the technology. However, questions remain around just how "green" this energy is and whether it's worth the investment.
Brewer will be sentenced in June and faces up to 20 years in prison.