Despite all the larger-than-life twists and turns he's dealt with, Matt Murdock's always been a relatively grounded man within the Marvel Cinematic Universe thanks to his unwavering faith. In the third season of Daredevil, though, Matt's faith is going to be put to the test in a way that takes him to his darkest depths. io9 found out all about it during a set visit to the Netflix superhero series.
The world is convinced that he died after the events of The Defenders, so Daredevil's third season finds Matt at a unique impasse that gives him the opportunity to reflect on his life as a vigilante and whether all of the turmoil he's put himself through is worth it. Beaten, bruised, and alone, there's little Matt can really hold onto other than his faith. This reality puts him in a head space that's going to bring new elements of his personality to light and push the show deeper into the psychological aspects of Daredevil's larger mythos.
For a significant chunk of the new season, Matt's back in black duds that, on passing glance, are more or less the same as his classic black outfit. But when we spoke with Charlie Cox during our recent set visit, he explained that there's a much deeper significance to this iteration of the black costume that factors into the story Daredevil's third season will tell.
The costume, Cox explained, is actually fashioned from the same fabric used to create the habits worn by the nuns in the church we first saw him in at The Defenders' very end. Though Matt isn't immediately rocking his "proper" Daredevil costume, the return to black is, in a way, an expression of Matt trying to figure out who he is:
"The way we transitioned into the red costume at the end of season one, the thing that really sold it for me was the conversation Matt had with Father Lantom. Lantom says 'Sometimes it's important for there to be a symbol to be feared by people.' It keeps them in check, it allows them to remember why they behave in a moral way. That was the impetus for Matt to go and embrace this symbol—that iconic red suit.
[Early into this] season, there's an equally compelling reason for him to not be in the red suit anymore. It's not explicit, but my understanding of it is clear: Matt, for various reasons, no longer feels like he is deserving of it. It's almost like he's lost that privilege. And also that he is, in some ways, outgrown what it stood for. There's also another reason why he literally can't wear the suit."
G/O Media may get a commission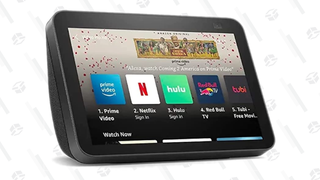 Cox added that this season will see Matt grapple with his alter ego and abilities in a way that make him question his faith in God and whether he's on the right path. Much of this shift is internal, Cox added, but it's something that was always running through his mind while inhabiting the character:
"He still believes in God, but he believes in a punishing God. He sees God as, at times, quite cynical and almost vindictive. Hopefully, he'll come back from that, but early on, at least, he's that angry. He feels that let down. If you're someone who believes he was given this gift in order to help, and then that is taken away but you're still alive, it throws everything into question.

The other attitude that has changed a bit is that Matt goes from believing that he was Matt Murdock with this alter ego of Daredevil, to believing he's Daredevil with a lie of Matt Murdock."
Matt's crisis of faith coincides with his return to the orphanage where he grew up and an unexpected reunion with new cast member Joanne Whalley (Willow), who portrays Maggie, a nun with an important connection to his past. Though Whalley was cagey with specific details about Maggie and Matt's history, she emphasized that she and Matt will be somewhat at odds in terms of how they demonstrate their faith—but, regardless of their differences, she's steady in her commitment to help the broken hero in whatever way she can.
Daredevil's third season will also see the return of Deborah Ann Woll's Karen Page, whose proximity to Matt will once again put her a specific kind of danger. Woll explained that even though Karen finds herself in the midst of a battle she didn't ask for, all of her past experiences with heroes and villains have made it so that by the time we catch up with her, she's more than prepared to take on whatever comes her way.
Despite those present threats, though, much of Karen's development as a character is set to come from her dark past this season:
"The main thread that I asked every single showrunner along the way was like, 'Please don't say I shot someone to save a busload of kids.' I want whatever happened to be something that was my fault. That this isn't a story about misplaced guilt, this is a story about forgiveness and acceptance.

That I did something really wrong and the rest of my life has been about atoning for it. Every story that I wrote about justice and truth and about opening your mind to different types like Frank Castle or Daredevil, it's all about, "How do I make up for the awful things that I have done by being the most light and the most truthful and the most helpful I can be?"
Between Wilson Fisk getting out of the pokey and everyone assuming the Devil of Hell's Kitchen is dead, Daredevil is set to take more than a handful of dramatic turns when the third season drops October 19.