After more than a week, DC Comics have responded to Marvel's criticism of their Blackest Night ring promotion... by doing it all over again, and making it easier for retailers to take advantage of the offer.
Despite Marvel's offer to exchange the covers of 50 promoted comics for one of their own comics and Marvel Vice President Tom Brevoort's Twittered commentary about the promotion (including the phrase "we're in the business of selling content rather than Cracker Jack prizes," which of course explains the 54 variant covers they're selling in April. Amongst those 54, over 20 are special Iron Man covers for comics that don't actually include Iron Man inside. Do covers count as content? U Decide), DC have apparently missed the memo that the promotion was destroying comics. How else to explain this announcement on the official DC blog yesterday afternoon?:
With a purchase of 10 copies of THE FLASH #1, retailers may order FLASH PROMOTIONAL RINGS. THE FLASH #1 and the FLASH PROMOTIONAL RINGS are scheduled to arrive in stores on April 14.

With a purchase of 10 copies of GREEN LANTERN #53, retailers may order GREEN LANTERN PROMOTIONAL RINGS. GREEN LANTERN #53 and the GREEN LANTERN PROMOTIONAL RINGS are scheduled to arrive in stores on April 21.
G/O Media may get a commission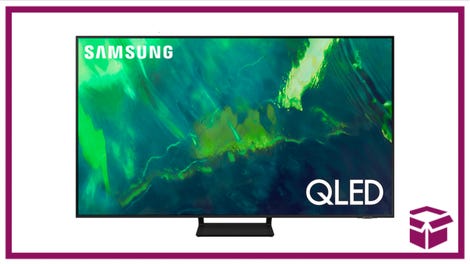 35% off
Samsung Q70A QLED 4K TV
Save big with this Samsung sale
If you're ready to drop some cash on a TV, now's a great time to do it. You can score the 75-inch Samsung Q70A QLED 4K TV for a whopping $800 off. That knocks the price down to $1,500 from $2,300, which is 35% off. This is a lot of TV for the money, and it also happens to be one of the best 4K TVs you can buy right now, according to Gizmodo.
Yes, that's 5 times fewer issues to qualify than Marvel's Siege nosethumb, and for more return, in terms of volume at least... and, let's face it, it's unlikely that retailers wouldn't already be heavily ordering the debut issue of The Flash or Blackest Night epilogue issue of Green Lantern, so it's a fair bet that fans will be able to get their plastic rings without fear come April. Taking the high road doesn't mean that Geoff Johns, writer of both books (as well as Blackest Night) could resist a sly comment in the press release, though:
One of the many great Flash Facts about DC Comics is that they actually do support the retailers with promotions like this that not only make our whole business a bit more fun, but also bring the promotion to every single reader. Of course, the proof is in the content and I couldn't be prouder of the work Francis Manapul and I are doing on THE FLASH and Doug Mahnke and I are creating on GREEN LANTERN.
We look forward to another Twitter tirade or two from Marvel upper management in response.
Who doesn't want to wear a Flash or Green Lantern ring? [The Source]