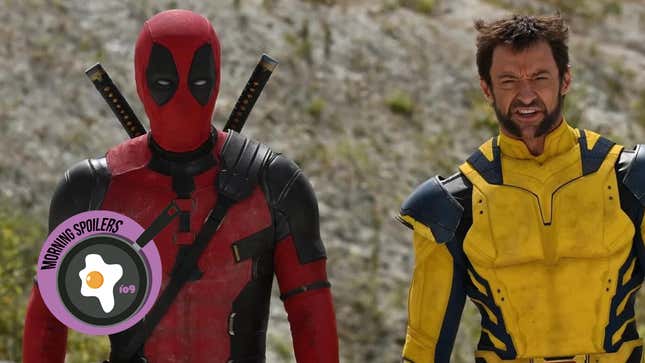 David Gordon Green talks casting Pazuzu in The Exorcist: Believer. Rick & Morty executive producer Steve Levy talks about the show's life after Justin Roiland. Plus, get a glimpse at the finale, inevitably bonkers episodes of Riverdale. Spoilers get!

Who Should Be The New Wolverine? io9 Picks

Hot Wheels
THR reports Mattel is now "meeting with directors" to discuss the company's planned Hot Wheels movie at Warner Bros.
---
Deadpool 3
As noted by Comic Book Movie, Disney has removed Deadpool 3 from its release schedule entirely— a move suggesting an indefinite delay in light of the ongoing actor's strike.
---
The Exorcist: Believer
David Gordon Green discussed casting the voice of the demon, Pazuzu, in a new interview with Empire Magazine (via Syfy Wire).
We're in the demon-voice part of the process now, and we're exploring various processes. The other day I brought five very, very different people into a room, with a microphone and asked them to say things. Maybe I want it to be each of these voices and more. Maybe I want the demon to be a lot of things.
---
Landscape With Invisible Hand
The cast and crew of Landscape With Invisible Hand discuss selling romance to alien invaders in a new featurette.
---
Elevator Game
A group of teenagers attempt to prove once-and-for-all whether elevators are really portals to hell in the trailer for Elevator Game, available to stream on Shudder this September 15.
---
How to Kill Monsters
The lone survivor of a massacre teams with "a rag-tag bunch of rookie cops and lawbreakers to fight off an invasion of monsters from another dimension" in the trailer for How to Kill Monsters.
---
Caverna
A cyclops "strangles a man and chases a princess through a forest," threatening the "progressive theater workshop outside of Florence, Italy" in the trailer for Caverna, a "neo-realist" monster movie available on VOD this August 15.
---
El Conde
We also have a trailer for El Conde, a period-set monster movie at Netflix posing the question, "what if Chilean dictator Augusto Pinochet was secretly a vampire?"
---
Squid Game
According to the latest issue of Production Weekly, a US remake of Squid Game is now in active development at Netflix.
---
The Boys
The latest issue of Production Weekly also suggests The Boys has been officially renewed for a fifth season at Amazon.
---
Rick and Morty
During a recent interview with the Los Angeles Times, executive producer Steve Levy suggested Rick and Morty may be "even better" without the involvement of Justin Roiland.
We had a rug pulled from underneath us. The only people we could lean on were each other. It would have been very easy to just say, 'I'm done and I don't want to do anything with this show anymore.' But our crew said, 'No, we're not going to let one person drag down all of our hard work.' This show is created by this team — this family of incredibly hardworking people, and we are going to push through and show the world that we aren't going to miss a beat.

The work that we're doing across the board has only gotten better. When the new season comes out, we'll focus on how amazing it all turned out. We hope the fans will realize that this is the same old show, maybe even better!
---
The Swarm
Deadline reports The CW will begin airing the German eco-horror series, The Swarm, this September 12 at 9 p.m. ET/PT. The series' original trailer can be seen, here.
---
Loki
Loki finds Sylvie working at McDonald's in a strange, cross-promotional clip from his second season at Disney+.
---
Riverdale
Finally, The CW has released a trailer for "The Golden Age of Television," next week's two-hour series finale of Riverdale.
---
Want more io9 news? Check out when to expect the latest Marvel, Star Wars, and Star Trek releases, what's next for the DC Universe on film and TV, and everything you need to know about the future of Doctor Who.