What do Panasonic, LG and Samsung think about the notion that plasma flat-panel TVs are on their way out? Gary at HD Guru went to the source to find out.
Tim Alessi, LG's director of product development stated that his company is still committed to the format claiming that "LG will include some of our newest technology in plasma sets, technology such as advanced design, NetCast Entertainment Access for connection to a wide array of Internet-based content and THX-certified displays" in the coming years. According to their estimates, "plasma will account for more than 40 percent of the 50-inch and larger screen size sales." And this volume should continue for another 3 to 4 years.
(Mind you, LG sells a lot more LCDs than plasmas, and plasma not long ago accounted for a majority of 42-inch and larger screens, so for it to be less than half of screens 50 inches or more suggests a lot of decline here, despite the enthusiasm.)
Bob Perry, an EVP at Panasonic US, agrees. In fact, as the largest maker of plasma, Panasonic is still growing. It announced it will open a new plasma factory that it had put on hold last fall when the market for televisions took a steep nosedive.
We clearly see in the industry numbers that LCD growth, particularly in the US market, has leveled off, and it's growth rate is slower than the growth rate of PDP. PDP, used principally in larger displays, continues to show growth as consumers in the US shift to larger displays (50'+), and as PDP, a fairly immature technology from a cost perspective, continues to show improved cost effectiveness.
G/O Media may get a commission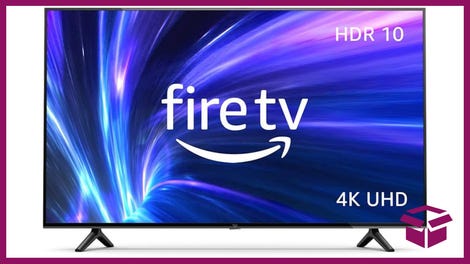 42% Off
Amazon Fire TV 50" 4K Smart TV
That sounds more convincing, but it has to be: Panasonic has no significant LCD business (yet), so it better be running its plasma business well, and with increasing efficiency and lowered cost. Does it mean sub-$1000 50 inchers by Christmas?
John Revie, SVP of visual display marketing at Samsung had this to say:
Plasma is an important part of the Flat Panel industry, representing approximately 30% of the 40"+ market and 50% of the 50"+ market. Plasma TVs provide the consumer great picture performance and value. As such we will remain committed to this technology and continue to make [capital expeditures] and R&D investments to improve our production capability and product design.
This sounds optimistic, like the others, but it doesn't change the fact that if you walk into any store to buy a Samsung TV, you can bet the retailer assumes you're talking about LCD.
There is more from each company spokesperson in the HDGuru story, but you can already see that while plasma isn't yet on its deathbed, it's clear that plasma is being relegated to higher and higher screen sizes as LCDs gobble up the rest of the market. [HD Guru]